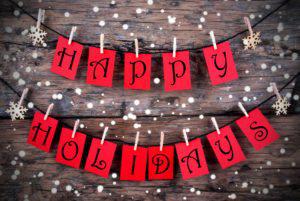 The holidays are just around the corner and everyone's ready to celebrate. Churches, schools, non-profits, and municipalities should be gearing up to give their electronic marquee signs a festive twist. Here are 10 creative holiday sign ideas for electronic marquee signs.
1. Use Holiday Icons
Santa, elves, and reindeer are iconic holiday figures that you can use to add a bit of holiday cheer to any sign. For example, you can add a cardboard image of Santa beside your electronic marquee sign, making sure it has colorful lights all around it to make it visible in the dark. You could also choose simpler figures like candy canes with a green bow or mistletoe.
2. Change the Font
Electronic marquee signs often suffer from a bad case of boring font. It may seem like a trivial matter, especially with everything else going on around the holidays, but a font that makes the large letters on your sign look good will attract more attention. Using only one font for your sign is okay, but do not use more than two.
If you are looking for simplicity this season, any sans serif font with uniform and medium to wide stroke widths will do. Even though the holidays are fun and exciting, avoid choosing script fonts that are difficult to read.
3. Choose the Right Character Size
Whether the characters are words or numbers, make sure that they are the right size. They should be big enough so that someone standing 100 feet away would be able to read the sign without straining. However, if you make them too big, you will likely not have enough space to write your message. You want to find a good middle ground between a short and sweet holiday message and character size that people can see in potentially inclement weather.
Industry standards suggest that every 1" in letter height results in 50 feet of readability. For example, a 4" tall letter would be readable at 200 feet. However, in inclement weather, a 4" tall letter may only be readable at 100 feet. You may want to consider making your lettering slightly larger than usual so it can be seen during rain, sleet, and snow.
4. Limit the Number of Words You Use
If you're dressing up your holiday sign with Santas, elves, or lights, having a message with too many words may become overwhelming. Since holiday signs are more visually appealing than traditional signs, you want just enough words to get your point across in a few seconds. Aim for no more than five words of text per line and if the words are long, fewer than five. Creating a holiday sign with impact is all about conveying a message using fewer words and using available space creatively.
5. Be Funny
A funny sign can make a person perceive you as someone who has a sense of humor and it can make your church, school, non-profit, or municipality seem approachable during the holidays. It also differentiates your sign from other signs people see on their daily commutes to and from work. If you decide to use humor on your electronic marquee sign this season, make sure the joke is appealing to most demographics. A joke can be funny to one group of people but completely unfunny or offensive to another. Some funny signs spotted last year:
"Jesus loves you snow much!" - a church sign
"For Lease Navidad" – a real estate sign
"Sugar them up and send them home" – a Christmas break school sign
Make sure the funny text is not bigger than your organization's logo on the sign.
6. Don't Be Afraid of Colors
If you have the ability to change the color of the letters on your electronic marquee sign, green, white, and red are always great options for the holidays. Go with a single color or alternate between the three colors for a truly noticeable sign.
7. Use Capitalization Properly & Avoid Italics
If the illuminated letters on your electronic marquee sign are all capitalized, they can be even more difficult to read in changing holiday weather. The best option is to use uppercase letters at the beginning of all the words in a sentence while the rest remain lowercase. Avoid using italics because they are difficult on the eye and can be confusing. While these are important guidelines for your sign at all times of the year, they are even more so during the holidays when you want your sign to have maximum visibility and readability.
8. Try Gold and Silver Lights
Gold and silver lights have always had an ethereal, holiday feel about them, but tend to be more sophisticated than their red and green counterparts. If you want to differentiate your holiday sign without being cutesy, consider gold or silver twinkling lights.
9. Consider Using Special Effects
An electronic marquee sign with special effects helps you stand out from  the crowd, who are all likely making some changes to their signs for the holidays. For example, you may have the ability to have some of your text blink, flash, or spin. This can be helpful for conveying important holiday messages, like school or church Christmas events. Avoid overwhelming people by choosing one special effect and using it for the most important part of your message.
10. Get in the Holiday Spirit
Whether you're a church, a school, a non-profit, or a town, the most important thing to remember when creating a holiday message for your electronic marquee sign is to get into a festive spirit! Be creative and don't be afraid to go outside the box a little from what you normally do to create a winning, attention-grabbing sign.