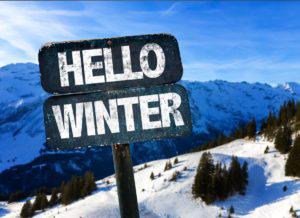 Charming church signs can have a big impact with passersby, but clever church sign ideas aren't always easy to come by. This winter, why not use your church sign to make people smile and welcome visitors to your pews? Here are 15 "cool" church signs for winter to help you spread His Word.
1. A Play on Words
Cold winters are known to sprinkle snow across much of the country, and there's nothing funnier—or "punnier", if you will—than using a bit of wit to make your sign as unique as each snowflake that graces its surface.
As one Baptist church reminded folks, "Jesus loves you snow much!"
2. Lift the Winter Blues
Cold, gloomy winter weather tends to make people feel down. If you feel like the weight of the world is toppling down on your congregation, acknowledge life's difficulties with a simple solution.
Follow the example of a Baptist church that offered one simple saying on its changeable letter sign that said, "When life gives you more than you can stand, kneel".
3. Remind People that God is a Friend, Indeed
Sometimes, the barrenness of winter makes people feel lonely. Despite bleak mid-winter months, you still want your audience to know God's companionship is always available.
One church sign relayed the following message:
"The Son can warm your winter days".
This powerful sentence contains very few words but still puts forth a meaningful message.
4. When Prayer is Not Needed
Most everyone dreads heavy snowfall that results in blocked driveways, power outages, and time out of work. Rather than ignoring the annoyance of snow-laden difficulties, acknowledge them and ask for a little mercy with a sign that reads, "To those who are praying for snow, please stop".
5. An Invitation for Healing
Winter holidays such as Christmas, New Years, and even Valentine's Day can leave people with broken relationships feeling left out. Open your church's doors with an invitation to everyone by way of a few simple words such as, "God will accept broken hearts, but He must have all the pieces".
6. Solving Conflicts
Words can cut deeply. As we enter into this season of forgiveness and healing, offer up a bit of forgiveness for hurtful things others have said with a sign that reminds people, "Gentle words will warm through winter".
7. The Joy of the Season
Winter is a wonderful season, but it's not the only time the Messiah brings joy and hope to the world. Acknowledge His ever-present goodness with the following message:
"A joyful season all year round. All year round with Jesus".
8. When the Preacher is on Fire
When preachers have a talent for talk and teaching, they can light congregations on fire with their presence and presentation of the Good Word. Call upon this ember-inspired event to reinvent a message that's meant to draw attention to the masses:
"Call 911, our pastor is on fire".
9. Too Cold to Change the Sign
When the snow is deep and the cold is bone-chilling, your church sign may take a backseat to the safety, warmth, and well-being of the persons tasked with updating the weekly message.
One church took the weather to task, explaining, "Too cold to change the sign, message inside". Thanks to this message, staffers and volunteers were spared from inclement weather while passers-by were enticed to find out what was inside.
10. When Your Home Is Surrounded by Snow
Ever found yourself in a situation where the snowfall is so unrelenting you can barely open your door? One First Reformed Church capitalized on this situation with a quirky caption: "God's love is deeper than this snow".
11. When Your Church Members are Star Wars Fans
An Anglican church took its nativity scene to intergalactic levels with a little play on pop culture. The church's sign undoubtedly made people grin as it began, "A Long Time Ago in a Galilee Far, Far Away..."
Once people catch wind of wordplay like this, you're likely to see a few fresh faces in the pews.
12. God Doesn't Like Winter, Either
After dry skin, wet socks, and astronomical utility bills enter the picture, winter is full-steam ahead. Any reprieve from Old Man Winter's bad attitude is simply one of God's gifts.
Encourage congregants to look forward to spring with a cheery sentiment such as "Spring is God's way of saying, 'I'm tired of winter.'"
13. Glass Half Full
The first few snows of the season are awesome. Unfortunately, the white stuff quickly gets old. As it drags on for an unforgiving number of weeks, only extremely optimistic people see winter weather as a glass half-full experience.
Encourage congregants to adopt positive outlooks to powdery landscapes with messages like, "On the bright side, we haven't seen many mosquitoes lately".
14. A Play on Membership Perks
Cheeky church signs are meant to make people chuckle. Give people a giggle—along with a warm welcome—with the right signage and a warm beverage. One church offered both free coffee and the Good Word with a sign that read, "Free coffee, everlasting life. Yes, membership has its privileges".
15. Seasonal Solute
Rather than dreading the cold days ahead, turn winter's unwelcome dreariness into an invitation for a little wit and humor. Use this seasonal transition to bolster a bit of inspiration with the following phrase:
"Autumn Leaves but Jesus doesn't".
Church Signs for Every Denomination
Solid winter-inspired church signs help convey God's message—and your church family's personality—to passersby and the people you see in the pews regularly no matter what denomination you are. This means of mass communication is both cost effective and convenient. Couple that with the fact that church signs are low maintenance, and you've got a winning combination of ways to spread the Good Word. Construct your wintry church signs with Bible-based humor to make the most of your message. Feeling like a holiday-specific sign is more up your alley? Check out these holiday sign ideas for electronic marquee signs.