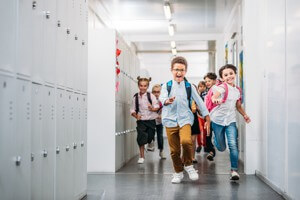 Summer has reached its end and students are beginning to fill the halls of schools across the country. As the school year gets underway, take a few moments to figure out what types of messages should be displayed on your school's signage. It's valuable real estate, and every word matters. Here are a few ideas to help you get started.
1. The Back-to-School Start Date
You'll have plenty of messages posted on your sign throughout the year, but this is essentially the starting line for all of the great things to come. Don't just post a bland statement that indicates when school starts; instead, welcome your staff and students back with a little fun and flair. Get creative with the way you use words, and if you have an LED digital school sign, you can easily add graphics and fun fonts to up the excitement ante.
2. Parent/Teacher Conferences
It's important for parents to be apprised of teacher in-service and parent/teacher dates well in advance, since your school will likely not be open on these days. To avoid unnecessary confusion, be sure to publicize these dates on your school sign well in advance of the occurrence so it gets as much attention as possible.
3. Outstanding Anniversaries
Has your school's superintendent been with your district for 25 years? Do you have a teacher on staff who's now teaching her students' kids - a generation later? Tout milestone anniversaries on your outdoor signage so your community can appreciate the time your staff puts into its education system.
4. Big Wins
Boasting about big wins can really increase morale and bring your student body closer together. Be aware of all the achievements your students are accomplishing so you're not just advertising your winning quarterback. Everyone in your school who has accomplished something grand deserves to be put on a pedestal, whether they won a national spelling bee, won first chair in the band, or took the trophy for a great debate. Keep your eyes on all the activities your students participate in so you can deliver fresh content (and well-deserved praises) when big wins happen.
5. Major Events
Homecoming and prom are just two of the many events your high school can advertise on its sign. If you're the leader of an elementary school, make sure you let people know when the Bookmobile will make its way to your parking lot. Do you oversee middle school students? Your pupils probably look forward to a Valentine's Day dance or something else that makes your school special.
6. Fundraisers
Help your school's clubs stay ahead of the game by telling the community about the awesome things you're doing. Is someone having a bake sale? Put it on the sign! Does your dance team need help getting to a big competition? Announce your needs! Are you trying to pass a levy, so your school can get better books? Your sign is the first place you should turn to!
7. Accomplishments of the Community-at-Large
It's important to stay keyed into the things your local business leaders are doing. When they're successful at something, broadcast their accomplishments on your school's signage. This effort not only bridges the gap between the community and your school system, it opens potential revenue opportunities you can tap into at later dates. Remember, your school relies on the businesses around it for uniforms, coaching, and leadership training. By advertising local businesses, you could be opening the doors for future sponsorship opportunities.
Stewart Signs knows how to help schools engage with their communities. Thanks to five decades of meticulous work in the signage industry, our experts understand what it takes to make the most of your messaging real estate. If you're ready to learn how Stewart Signs' school projects have made a difference for our clients, reach out to us!