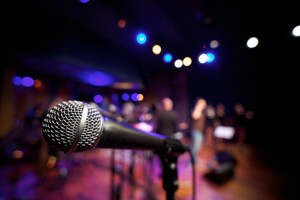 Church events are a great way to enjoy fellowship with current members, let the community know about your offerings, and just have fun. But to have a successful event, you need people. In addition to sharing your event online and in the church bulletin, you should advertise it in your church sign. There are all kinds of events you may want to plan. Check out these seven ideas.
1. Snow Day Fun
You don't have to sit at home on a snow day. Instead, invite people to gather on the lawn of your church and make snowmen. Because you can't always plan ahead when it comes to snow, this is exactly the kind of impromptu event that you should share on your church sign. If you provide the hot chocolate and a few snowmen decorations, community members only need to bring their creativity.
2. Free Childcare for Date Nights
When you have young children, it can be hard to focus on your bond as a marital couple. Consider giving couples the time and space they need to reconnect by offering childcare for date nights. These events can be a great opportunity to support the young families in your church, but you can also reach out to other people in the community. If you want to ensure that unchurched families hear about this offering, put it on your church sign. That way, anyone who passes by will learn about this event, even if they don't attend your church or follow you on social media.
3. Mission Trips
Church events don't just need to be at your facility. They can take place all over the world. If you're planning an upcoming mission trip, let your community know. Use your sign to announce sign up dates and locations, and also to solicit for donations. After everyone comes home, plan an event to show off photos and let the community know how the trip went.
4. Feed the Poor
"For I was hungry, and you gave me something to eat, I was thirsty and you gave me something to drink, I was a stranger and you invited me in." In the spirit of Matthew 25:35, you may want to plan an event where you feed the community. Cook up a holiday feast and invite the poor or disenfranchised from your community, and make sure they know about the opportunity by posting it on your church sign. Or, simply have your church members each invite a friend or relative to a fun meal at your church.
5. Fix Up the Church
Although providing food and fellowship to the community can be a lot of fun, consider the gift of giving someone purpose and plan an event where people fix up the church. Depending on your preferences, you can limit this event to church members, or you can extend the invitation to the community at large. If you like, you can even have an event where you feed the homeless in your community while also giving them the option to do some painting, repairs, or landscaping.
6. All-Ages Video Game Night
Most children love to play video games, but why not get the adults involved too? This type of event can be a fun way to build camaraderie across multiple age groups, and it gives children the chance to take on a leadership role. Hook up some gaming consoles to your projectors or indoor LED video walls and have super-sized fun playing video game versions of bowling, tennis, race car driving, or other fun and age-appropriate games. If you prefer to keep your events old school, you may want to have a multi-age board game night or get together to play charades.
7. Karaoke and Dancing
Let your church members and people in the community know that they don't have to head to the bars to enjoy singing and dancing. Instead, they can enjoy the fun of those activities in a more wholesome family friendly environment. Set up some karaoke machines or invite in a band or a DJ and let the fun begin. These ideas can be great for singles nights, teen fellowship events, or family get-togethers.
At Stewart Signs, we have been providing signs to churches for over 50 years. Our quality signs offer a great platform for you to share information about your upcoming events, and we have a wide variety of signs as well as custom options to meet your needs. Contact us today to learn more.