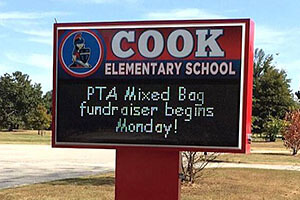 In Spring of 2020, the COVID-19 pandemic caused widespread closures throughout the country. Schools were forced to close their doors and adapt to a new world of virtual learning. The elimination of face-to-face interactions left many schools needing to also find new ways to keep students focused, engaged, and safely continue their fundraising efforts. Here are some ways your school can fundraise safely during the pandemic.
Virtual Paint Night
Virtual paint nights are such a fun and creative way to get everyone together. They can be hosted by school staff, PTO's, PTA's, or even Student Council. Create an online sign-up sheet to help with preparing art kits, which can be sold to gather donations. Art kits should include all supplies needed for the Virtual Paint Night, including your canvas and link to virtual class. Offer those who may already have supplies at home a small fee for just the link to your class. Don't forget to promote your event on your school sign to ensure a successful night.
DIY Food Kits
During the pandemic, many local bakeries and pizzerias have been offering DIY cookie decorating kits and build your own pizza promotions. Team up with some local businesses for proceed donations or create your own kits for purchase. Kits should include all the basic items needed. When creating your sign-up list, be sure to include an order deadline for items like cookies that will need to be made in advance. Inform your community of upcoming fundraisers, deadlines, and expected delivery dates on your outdoor LED sign.
School Logo Face Masks
Looking for the perfect back to school fundraiser? With most schools requiring face masks and protective face coverings, this fundraiser is sure to be a success. Many online companies are offering special rates and even ship directly to the customer for contactless delivery. Share your fundraiser link on your outdoor school marquee to help boost your fundraiser sales.
Drive-in Movie Night
Host a socially distanced drive-in movie night at your school. This can take place in an outdoor courtyard, parking lot, or any open field. If your school does not have a place to project a movie onto the building, you can rent an inflatable movie screen to set up anywhere outdoors. Increase funds by offering food and drinks at a concession stand. Advertise your event and sell tickets in advance on your LED school sign.
Virtual Walkathon
A virtual walkathon is a great way to raise funds with very little upfront costs. Your school can create a fundraiser page for donations which can be shared across social media, texts, emails, and even displayed on your outdoor school sign. Have organizers host a live stream video the morning of your walkathon to get everyone excited for your big day. Once students are finished, have them upload their results on to your fundraiser page to earn special awards.
AmazonSmile
AmazonSmile is a program through Amazon, which donates 0.5% of the purchase price from eligible purchases to a charity of your choice – in this case, your PTO or PTA. The first thing you will want to do is make sure your PTO or PTA is registered as a 501(c)(3) and in good standing with the IRS. The next step will be visiting the AmazonSmile website to create an administrator account for your organization and accept the agreement terms for AmazonSmile. Now that getting set-up is complete, all that is left to do is advertise. Your LED sign is the perfect tool to communicate with your community on how they can help support your school by shopping through AmazonSmile.
Round-up Apps
Looking for ways to get the entire community involved in your fundraisers? Round-up apps may be just what your school needs. You can pair up with local businesses to help collect donations by having customers round up their purchases to the nearest dollar and donate the change to your school. Be sure to include a poster or flyer for the business to hang up to display your campaign goal. Promote the local businesses you are working with on your outdoor school sign and additional ways passersby can donate.
The options are limitless when it comes to ways you can fundraise for your school, but it is clear what is most important is how you advertise your fundraisers. Clear communication between your school and the community is a must. LED signs provide the essential means of communication between the school and its community, parents, students and teachers. If your school does not already have an LED sign, contact us for an upgrade today.