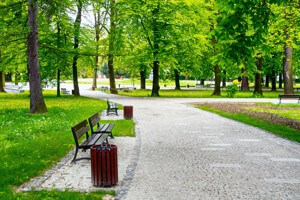 A city park is a great place to put a sign, and in fact, many city parks have a combination of different signs ranging from small trailside signs to large digital signs - and nearly everything in between. Want to make the most of your city park messaging? Then, check out these tips.
1. Share the Name of Your Park
Use your sign to announce the name of your park. You can choose a small sign, or make a big splash with a masonry-inspired monument sign. When people know the name of your park, it's easier for them to find it and even use the sign as a meeting spot.
2. Post Your Rules
Keep everyone on the same page by using your sign to share the rules of your park. You may want to post rules such as 'no littering', 'no drinking alcohol', or 'no glass bottles'. Keep in mind that you need to strike the right tone with your rules. You don't want to sound so strict that you make park visitors feel uncomfortable, but on the other hand, you also want to sound serious enough that people follow your rules.
When you opt for an outdoor LED sign, you can play with your approach until you find something that works. For instance, if you want to cut down littering in your park, you can post different anti-littering messages. Then, you can measure which ones have the biggest impact on reducing litter in your park, and you can reuse the most effective messages or even put those messages onto permanent signage throughout your park.
3. Explain Your Park Culture
Beyond sharing rules, consider using your city park sign to explain your park culture. Do you want people to avoid profanity? Contact the authorities if they see bullying? Invite new friends into their circles? Then, you may want to emphasize those points on your sign. Here are some of the types of messages you may want to explore:
Parents, introduce yourselves to make the park safer for everyone.
Be a friend. Invite everyone to play.
Bully-free zone.
All ages welcome!
Have you done a random act of kindness lately?
When you give people the idea to be kinder while they are at the park, they may embrace your tips and make the park a more inviting place for everyone in the community.
4. Share Seasonal Warnings and Announcements
Digital park signs make it easy to keep up with seasonal changes. For instance, during the winter, you may want to post rules about snowball fights, information on sledding spots, or warnings about thin ice on the park pond. In the summer, you may want to remind people to pick up after their dogs, let them know how to reserve picnic shelters, or share other tips and information.
5. Use Park Signage to Help with Wayfaring
Your park sign can also be helpful for wayfaring. You can display maps of the park on the sign so that people know where the bathrooms or other amenities are; however, please note that the sign should be 8mm or 10mm in order for the map to show clearly on the LED display. During special events, you can change the sign to show people what is happening during the event. For instance, if you're hosting an arts-in-the-park event, you can put up a map of the booths on your sign. Finally, you can also use the sign to announce new amenities such as bathrooms, walking trails, sports equipment rental kiosks, or anything else that has just been added to the park.
6. Explain Exercise Opportunities
Help your community get fit by explaining exercise opportunities on your sign. Let people know about jogging paths, tennis courts, baseball fields, and other areas where they can exercise. Give them tips for doing workouts on the playground equipment and consider sharing health facts.
7. Relay Educational Information
Is your park on an important historical site? Do you want to share info about the history of your town? Is your park home to any interesting flora or fauna? If so, consider taking those details and sharing educational tidbits on your city park sign. Again, with LED signage, you can post a range of educational information, update it as needed, and rotate through numerous messages to get the biggest impact possible.
8. Promote Other Events in Town
Don't limit park sign messages exclusively to happenings at the park. Instead, use your sign to promote other events happening in your community. If you have a street festival, a fair, a downtown business association sale, or countless other events, let people know by posting details on your digital park sign.
These messages have the chance to reach locals in the park, but they can also help to attract more outsiders. In a lot of cases, when people get to a town, they stop at the park to stretch their legs, let the kids run around, or give their dogs a break. As they're wondering what to do and explore in your community, your park sign can answer that question for them.
9. Plug Donors
You can also use your sign to applaud the generosity of donors. You can display a running ticker of individual donor names, you can put up ads for local businesses that have donated to the park, or you can thank donors in other ways.
Ready to invest in a new sign for your city park? Then, contact us today. At Stewart Signs, we specialize in signage for municipalities, civic organizations, churches, schools, and more. We look forward to helping you choose a custom sign that meets your needs.