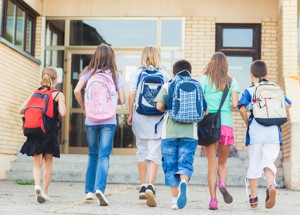 You may think your school's sign has the most work to do when classes are in session. Actually, that may not be the case. This time of year - when summer vacations are coming to an end and fall practices are just beginning - there's a lot of information that students and parents need to know. Your school signage is the perfect place to post announcements about everything back-to-school-related.
But, there's a certain science to the way you approach your audience. You don't want to welcome them back too early, because they're still enjoying their time off. You don't want to wait too long, because you'll be late to the party when parents have already organized their calendars. So, how do you welcome your students back in a timely manner without missing out on the messaging train? Here are some tips.
Late July – Early August
Tell your students you hope they're having a nice summer vacation! Don't start the back-to-school conversations too early because they deserve to revel in the fact that they're not doing homework. Plus, parents aren't likely paying attention to anything school-related just yet. This doesn't mean your school sign has to be dormant; it just means you have to find the right message for the right time.
First Week of August
Start announcing practice schedules and activities revolving around extracurriculars. Most sports, band practices, and other non-academic activities begin a bit before school does. Utilize your school's sign to help parents understand when they need to get ready for two-a-days and other before-school-starts situations.
Two Weeks Before School Starts
This is your school sign's time to shine. If you have an LED outdoor sign, everything's a lot simpler; you can easily switch up your messages, set certain phrases to change on a timer, and add graphics when something you're trying to say really needs attention.
The messages your parents and students care about will depend on the age of your students. Parents with kids in elementary school have different things on their radars than parents who have high schoolers. Fortunately, LED signs enable you to broadcast any message you need to make, even if your school combines all grades.
Here are some things parents and students will have their eyes open for during the second week of August:
When the school supplies list will be released. Anxious parents are awaiting the day you tell them what their students need to bring to the classroom. Whether your supplies lists are classroom-specific, or everybody needs to bring the same things, make sure you coordinate with your staff so your students' parents can create schedules that enable them to get everything they need with as few trips as possible.
If your school offers all-in-one supply box purchases, advertise that loud and clear. Many busy parents are happy to pay a lump sum to get everything they need if that means they don't need to brave the back-to-school crowds.
Local vendors who offer awesome deals. If you've paired up with some local businesses so your student body can enjoy savings while you support the community at large, now is your time to bolster the sponsoring businesses on your school's signage.
From uniforms and sports apparel to pens and pencils, people within your community are likely happy to support your educational endeavors. This is the time to give back to those businesses by showcasing their brands on the signage everyone sees as they drive by.
A Few Days Before School Starts
Now, you can unroll the welcome mat. Three or four days before school begins, send a loud and proud message via your school signage that lets students know it's time to get back to the books. Help them get excited by letting them know you're looking forward to seeing them!
School signs are important messaging devices. They help you communicate with your staff, students, parents, and communities. A single phrase can set the right plans in motion for the rest of the year, if you know when and what to post.
Stewart Signs is here to help. With fifty years of school signage experience under our belts, we can help you find the right sign, so your messages are clearly visible on high-quality signage that attracts the eyes of passersby. Reach out to our school signage experts to learn how we can help enhance your school's communications.