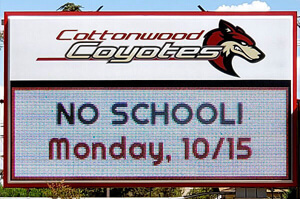 Thinking about investing in a sign for your school? If you've started looking, you've probably bumped into several LED signs, and you may be wondering if these signs are worth the cost. The answer is a resounding yes! LED signs bring a number of benefits to your learning facility. Here's a look at just some of the top benefits:
Enhances Communication
The main advantage of an LED sign is that it improves communication. Want to remind students of something? Worried that students may not bring their parents the handouts you send home? Trying to get more people to attend the next big game, theatrical performance, or other events? Then, you simply need to program that message onto your LED sign and let the sign handle the rest. With many signs, you can even set up messages in advance or schedule different messages to appear at different times.
Allows You to Broadcast from Multiple Inputs
With modern LED signs, you don't need to just connect a single video. Instead, when you want to switch it up, you can move between cameras, digital media on your laptop, DVD players, and a variety of other inputs. These signs come with a video processing unit that lets you change video inputs quickly with the touch of a button, and you can choose between a full screen video or several different video-within-video formats.
Provides Dynamic Infotainment
LED signs are much more than just a simple sign for announcements. While a lightbox sign lets the world know your school name and a changeable letter sign lets you share messages, an LED sign goes much further. These signs take your school communication to the next level, and they are a blend of both information and entertainment. You can display videos, share animations, or post advertisements. You can also stream pre-recorded videos or play DVDs. If you want the whole school or a class to see a certain video and you have an indoor LED sign in the gym or auditorium, you can easily seat everybody, connect the sign to speakers, and roll the video. Similarly, if you're having a big game, you can mimic the jumbotrons at professional games and pop up live streams of people dancing and cheering in the crowd. With the right sign, you can switch between the scoreboard and the video input as desired.
Helps with Fundraising
Fun and entertainment are just the beginning when you have an LED sign. These signs are also the perfect tool for fundraising. You can get the word out about carnivals, car washes, rummage sales, or other fundraising events to boost participation. You can also solicit donations by promising big donors advertising space on your sign. Keep in mind that you don't necessarily have to give them permanent space. For instance, you could let donors know that the sign will display their business logo during halftime, you could rotate video ads from major donors on your sign during big events, or you could plug donors occasionally on your outdoor LED sign. There are all kinds of creative ways you can use these signs to help your school thrive.
Is More Effective Than Traditional AV Equipment
Your school probably has a variety of audio-visual equipment. You may have TVs and DVD players that you pull out when you want students to watch videos. You probably have projectors and pull-down screens for presentations. But, when you invest in an LED sign, that can take the place of a lot of your bulky old AV equipment. You pop the sign on the wall, and you don't need to worry about storing it. In most cases, these signs also require a lot less maintenance than AV equipment, and of course, your graphics, videos, and other visual elements look better thanks to the crystal-clear images, sharp graphics, and amazing resolution on LED signs.
Supports Your Athletics Program
When you decide to use an LED sign as your scoreboard, you can integrate all the fun features mentioned above. In addition to showing off videos or advertisements from a variety of inputs, you can also display stats about the game or about your team's season. On top of that, you also reap the benefits of extremely effective and highly customizable scoreboard software. You can use a laptop with pre-installed software to control the score and the clock. But, you can also add a control console that lets your officials keep up with the action easily. If your officials stop the clock, that change is instantly synced with the laptop and the scoreboard. There are even separate LED shot clocks and match timers, and their controllers let you set the time, add seconds, or turn the shot clock on and off. With that type of technology, the game runs smoothly, and you get to impress the opposing team with your tech.
Resists Vandalism
While a lot of students have school pride, others seem more interested in vandalizing the school or its property. When you invest in an LED sign from Stewart Signs, in particular, you get to enjoy the added benefit of vandalism resistance. These signs are covered with Makrolon SL® polycarbonate, which is virtually indestructible.
Can Be Customized
You need an LED sign that is as unique as your school community, and customization makes that possible. You can choose from a wide range of sizes from a modest LED display to a stunning 12-foot or larger sign.
You can opt for a sign that is exclusively an LED sign, or you can surround the LED section with separate static identification areas where you display your school name or mascot so that you can really show off your school spirit. At Stewart Signs, our in-house artists work with your ideas and customize artwork so that it truly reflects the image you want to project into the community. If you're putting the sign outside, you can place it on a pedestal, hang it on the external wall, or position it on a low profile stand, but you can also surround your LED sign with a masonry-inspired "frame". Monument signs are perfect when you're trying to add prestige or want to complement the brickwork on the school.
Improves Recruitment
In a lot of cases, an LED sign can improve recruitment. If you're trying to attract new students, an LED sign indicates that you have a modern stimulating environment and that you're willing to invest in your institution. Additionally, you can use your signage to let people know about enrollment dates, to share stats about your school's success, or to entice new enrollees in other ways.
LED signs affect how your school is perceived by students, parents, and the community at large. The benefits above are just some of the many advantages you get to enjoy when you have this type of sign. To get a custom quote and to learn more about how the right sign can benefit your school, contact us at Stewart Signs today.