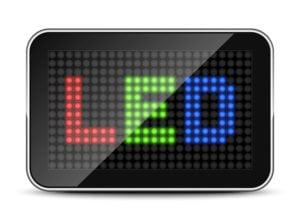 When most people think of LED signs, they imagine big, bold digital billboards. Sure, major marquees are awesome for advertising, since they grab the attention of thousands of passersby who are able to see the messaging from any angle at any time of day.
With that said, not every project requires a gigantic sign. There are plenty of reasons small LED signs offer benefits that are bigger than their large-sized counterparts.
1. You're Going for Foot-Traffic Attraction
Viewing distance is a major component when it comes to choosing the right sized LED sign. If you're trying to attract people who are walking by your organization on foot, you don't need a huge sign; in fact, you may not have the real estate to accommodate such an item if your organization is located within a neighborhood or inside the city. When you're trying to appeal to foot-traffic a small LED sign in the window or on the wall will do the job quite nicely.
2. You Have to Abide by Zoning Restrictions
It's not uncommon for organizations to have to deal with zoning restrictions before they can put up new signage. Many areas have specific size and height limitations, which may prevent you from putting up a magnificent marquee, but that doesn't mean you have to settle for second-best, opting for a standard static sign that doesn't do much for your brand. Instead, stick within the confines of your zoning requirements while still enabling your organization to showcase your style by employing the assistance of a smaller LED sign.
3. You Plan to Produce Simple Content
Let's say you have a pretty simple logo, and you're not planning to put out any elaborate product images, videos, or layouts. In the case where your content will be simple, you can save your organization quite a bit of money by opting for a smaller LED signs.
Larger LED signs offer a lot of flexibility, allowing an organization to get creative and put some incredible messaging out into the world, but that route isn't what works best for every establishment. If you're planning for a simple display, you'll likely be over-spending if you opt for a big sign.
4. You Have Several Locations
Small LED signs are significantly more affordable than large ones. If you're looking for ways to unify the messaging of several locations without busting the bank, it may be in your best interest to start with small LED signs. For example, a school district with an elementary school, a middle school, and a high school to purchase signs for may want to consider a smaller sign to start with.
5. You're Looking for an Interesting Way to Get Creative
Do you have a few things you want to share with the community simultaneously? In some situations, large LED signs are the perfect solution for this, as they come with robust software that allows you to redesign images, messages, and videos on a dime.
However, there are plenty of times that solution may not work. Perhaps you have limited space but have been blessed with ample amounts of creativity. You can position several small LED signs on your walls or in your windows, offering up a variety of messaging across the different displays. This is a new take on digital art that can really get people talking!
Are you struggling to figure out if your organization would be better off with a small LED sign, rather than a large digital billboard? You don't have to make this type of decision by yourself! Our team at Stewart Signs has been helping our customers find the signs that fit their unique needs for fifty years, and we'd gladly offer you our expert input. Touch base with us today and let us know how we can help you!