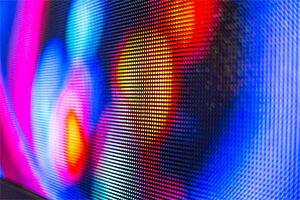 Direct view LED video walls, also called dvLED displays, offer your church, nonprofit organization, school, or business the chance to engage your audience with a multi-purpose, colorful digital canvas. Easy to install, operate, and maintain, dvLED video walls by Stewart Signs boast 24/7 operating capabilities, high-resolution visuals, flexible configuration options, and relatively low operating costs.
Are you thinking about getting a dvLED video wall? Wondering how this type of technology can enhance your mission and help take your organization to the next level? Then keep reading to learn the essentials of LED video walls.
Components of dvLED Video Walls
DvLED video walls are comprised of direct-view LED displays that work together as a unit to display content as if it were a single screen. These LED screens are incredibly efficient because each component is responsible for conducting and emitting its own light.
The three primary components of a dvLED video wall are a display system, hardware, and software. Typically, the display system consists of tiled LED panels put together to create a wall that complements your space. The hardware provides a hub from which you can control your video wall and add inputs such as live feeds, cable boxes, edited files, and more.
Types of Displays Commonly Used for Video Walls
There are three basic types of video walls commonly used in churches, schools, and other businesses. Although there are pros and cons to each type of system, many customers have found that dvLED displays are the most versatile and reliable.
Direct-View LED
Direct-view LED displays are available in any size and are well-suited for large projects like stadium screens and outdoor signs. Stewart Signs offers dvLED video walls that have multiple pixel pitches to choose from, which allows your sign to have a bright, high contrast, seamless image no matter the size. Additionally, dvLED displays are an excellent choice for schools, churches, and businesses thanks to their bright, crisp images and low operating costs.
Key features:
High brightness
Can be built any size –suited for larger sizes
Indoors or outdoors
Multiple pixel pitches available
Seamless image
LCD Flat Panels
The most common type of video wall is the LCD flat panel display. These video walls come in sizes ranging from 3" to 98" and are frequently used for indoor projects. Some LCDs have 4K resolution and may even include touchscreen features. Although less common than indoor uses for LCD flat panels, these types of screens are available in outdoor models, as well.
Key features:
Most common display type
From 3" to 98" in size
Up to 4K resolution
Touchscreen capabilities
Frequently used for indoor video walls
Outdoor models available
Projectors
Another common option for video walls is long-throw projector systems. Although these are, generally, considered an outdated solution for video walls, they are still used in approximately 20% of all signage. The images for projector systems can be affected by ambient light, so they are inadequate solutions for outdoor video walls during the day. Because of the older technology, these are often a low-cost solution for large video displays. Projector systems require more maintenance and upkeep than dvLED displays, which includes changing filters and bulbs regularly. However, some lamp-free projector systems are available.
Key features:
Still used in some signage
Cost-effective solution for large displays
Clarity of the image can be impacted by ambient light
Lamp free models available
More maintenance and upkeep than other options
High-Quality Viewing Experience
A direct-view LED video wall creates a nearly unparalleled viewing experience, featuring sharp images that look great from any angle. LED screens can display images with lots of different colors, and they also come with brightness levels that allow viewers to see images clearly — even outside in the sun.
Customized Solutions
The LED video wall you select for your organization should be as unique as your mission. When you purchase a video wall from Stewart Signs, we pair you with an experienced sign consultant who can customize your video wall based on your needs.
Video walls offer unmatched versatility. You can select a pixel pitch based on the viewing distance of most of your audience, the type of content you plan to display, and your desired clarity. You can choose between indoor and outdoor screens and fixed or mobile video walls as well as a variety of other specs.
Multiple Uses
From welcome signs to control room operating displays to entertaining presentations, LED video walls boast a variety of uses. In schools, you can showcase student and faculty work, make announcements, share breaking news alerts, broadcast clips from sporting or theatrical events, support speakers, or show educational films to the entire student body. Churches, municipalities, and nonprofit organizations can all enjoy similar uses for their LED video walls.
These walls allow you to display visual content in a dynamic environment. For instance, during a presentation, you can show off short video clips, maps, graphs, and a variety of different interactive pieces of information. You can get your audience involved with participatory social media streams. For instance, as people use a particular hashtag on social media sites, you can set up your display so that their posts show up on your video wall.
Choosing an LED Video Wall
Work closely with a sign consultant to ensure you select the right video wall for your business or nonprofit organization. To make the right decision, consider the following elements:
Objectives — Think about how you want to use your video wall. Do you want to promote events, draw in a tech-savvy audience, support entertainers visually, or meet other objectives? Ideally, you should take some time to write down your goals to ensure that you pin down everything that you want to accomplish with your video wall.
Content — As you come up with your objectives, you should start to think about the type of content that will help you meet those goals. Then, you should work with your sign consultant to figure out which kind of screen and technology is required to display your content.
Installation Considerations — Where do you want to put your LED video wall? How much space do you have? Does ambient or direct light affect the display? Where is your audience going to be? Do you need to move the wall? What about accessibility for maintenance? What are your aesthetic goals for the wall? The answers to these questions, as well as specific considerations about building codes, also dictates the type of wall you need.
Hardware/Software Functionality — Finally, you need to think about the functional capabilities of your wall's hardware and software. For instance, if you want to schedule content in advance or make changes remotely, you need software with cloud-based controls.
A video wall can help you take your organization to the next level. Before making this investment, contact us today to talk about your needs. At Stewart Signs, we have been providing high-quality signage to our clients for our 50 years. We use the latest tech advances to help you find the right options to meet your goals.