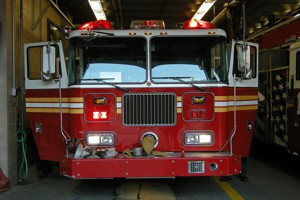 Fundraising for your fire department can be challenging. Going door-to-door and asking people to "fill the boots" with donations is a classic fundraiser, but it's time-consuming and a lot of people are suspicious when a stranger knocks on the door. Similarly, telephone fundraising can be effective, but with so many scammers pretending to be firefighters, many potential donors tend to ignore these pleas. To make fundraising more effective and less time consuming, you need to get your sign involved. Looking for ideas? Check out these fundraising strategies.
Solicit Online Donations
How many people drive past your fire department every day? Let those people know that you're raising money and give them an easy way to donate online. Ideally, your website should have a donation button, and you may even want to set it up so that people can easily subscribe to a monthly donation plan. Also, consider hosting special events online. Silent auctions, raffles, and other fundraisers can easily be set up online. You may also want to use fundraising sites to collect money for specific goals, such as a new truck or a renovation to the inside of your fire department. Regardless of what you decide to do, announce it on your sign.
Direct People to Local Restaurants
Many local restaurants and stores are willing to do fundraisers on behalf of local nonprofits. In most cases, they do business as usual and they give a portion of the sales or a percentage of profits over a certain time period to your fire department. Once you set up an arrangement with a local business, use your sign to promote the event. Encourage people to go to the local burger shack, bookstore, or whatever other type of business is supporting the fundraiser. Let them know when and where the event is happening and tell them how it will benefit your fire department.
Invite the Community Over for a BBQ and Tour
Many firefighters are great chefs. If you've got some talented cooks in your crew, consider holding a fundraiser where you serve food and give people a tour of the facility. Depending on how you want to structure the event, you can charge separately for individual food items and the tour, you can charge a single cover price for entry, or you can offer everything for free and just encourage donations. If the event goes well, you may want to do something several times per year. Pancake breakfasts and firehouse stew nights are also great ideas, and you may even want to put together a cookbook full of recipes to sell at the event. In all cases, make sure to promote the event with the time and other details on your fire department sign.
Hold a Haunted House
People are always looking for something fun and safe to do on Halloween and even during the weeks leading up to this spooky holiday. Consider turning your fire department into a creepy haunted house. You can host something not-so-scary for people of all ages to enjoy, or you can host something deliciously frightening. Just be clear about what the community can expect on your promotional materials. By promoting this haunted house on your fire department's outdoor sign, you can draw in people who live in the neighborhood as well as anyone who drives by your sign in the days leading up to the event. If you have an LED sign that can display videos, you may even want to put up short clips of scary vignettes from previous years.
Host Selfies with Firefighters
The firefighter calendar is an outdated fundraising idea. Take a step into the digital world and offer selfies with firefighters instead. Let people know that if they stop by, they can get a shot with one of your firefighters to share with their friends and family on social media for a nominal charge or donation. You may also want to let kids have their photos taken on your fire truck or while sliding down your pole.
Advertise a Car Wash
Turn your parking lot into a car wash for the day, and let people know they can get their cars cleaned by advertising the event on your fire department sign. Many fundraising car washes rely on people waving signs the day of the event. With your digital sign, you can make the advertising more effective by promoting the car wash in the days or weeks leading up to the event.
At Stewart Signs, we understand the value signs have for fire departments, and we want to help you make the most of quality signage. If you're in the market for a new sign, contact us today. Our experienced staff work closely with our clients to help them find the perfect sign for their needs.