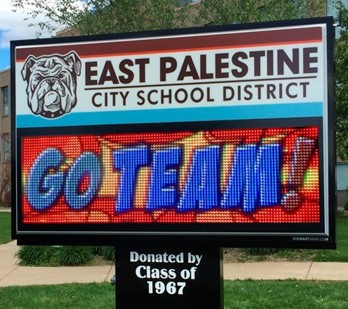 If you are thinking about increasing school pride, school marquees are a great solution. This type of sign will allow your school to prominently display your school's name, mission, mascot, and other important information you want to communicate to your students and staff.
School marquees give your school an inviting and warm welcome at first sight. This simple sign placed at the entrance of your school can ease students' nerves and give students a sense of belonging and community.
With changeable letter or LED school marquees, you can easily update information that is relevant and important every single day. Imagine being able to display important upcoming events, special announcements, or specific dates for breaks and testing.
School Marquees can be used to:
Congratulate your staff and students or showcase milestones achieved
Thank students or staff for participating in events or for providing volunteer services
Announce reminders for events that are coming up like PTA meetings, practice times, or any school event that is happening
Highlight testing dates, school closing dates, early releases, or special meetings
Promote open houses, dances, game nights, fundraisers, and important health and safety information
All the information you want to communicate to your students and staff can be done with a new marquee for your school. Making an investment in a school marquee can yield returns for many years. It will allow prominent and tasteful branding for your school as well as provide your school with a powerful communication tool. We have been making school marquees since 1968 and have the expertise to create your school's new communication tool.