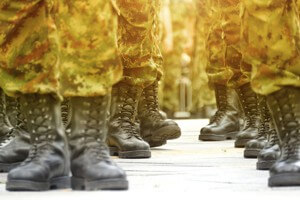 When new recruits step foot on base, they enter a completely new world. So begins a stressful time when young men and women are barely getting their footing outside their parents' homes; now they must lean on their own independence and utilize the skills that will get them home safe if they're ever deployed.
Your recruits will learn a basic path that takes them to physical training, food, applicable academics, and their sleeping quarters. It won't take long for them to understand the general outline of their space, but when they're very new, they're probably going to feel overwhelmed. Your signage can help new recruits find their way around.
Digital Signage Eases New Recruits' Fears
Your recruits have been introduced to a campus that's completely foreign to them. They'll likely make a few bunk mates, which will help settle their nerves, but they still need to know where they're going, and they need to make it there on time.
When Stewart Signs works with military installations, we identify the needs of the audience before all else. On a training base, you're dealing with younger service men and women who are stepping out from the shadows of their parents for the first time. They're ready to be adults; they're ready to defend their country, but they may need a little help along the way.
Here are some places new recruits do well when digital signage is put into the mix.
Right off the Bus
Your new recruits are likely coming to you from every corner of the country. They speak different dialects and have wholly different personalities. Soon, they'll be brothers and sisters, but right now, you just need to have a sign in place that welcomes them to their newest home. Digital LED signage enables you to change the messaging at a moment's notice, so you can equip your sign with your recruits' names and positions as they arrive at your facility.
On Campus
Campus can be confusing for new recruits. Do everything you can to cut down on the clutter and make it easy for your men and women to get to where they need to be without delay. A few colorful, digital maps in high-traffic areas can help service men and women get where they're going, and if they're lost, someone will likely be nearby to show them the way.
In the Main Room
Use indoor digital signage to help new recruits understand what's expected of them. Up at 05:30, at breakfast at 05:45, PT at 06:00. Whatever your group's regimen, it's easier for new recruits to adapt when they know what's going on.
Goals and Accomplishments
Digital signage is the perfect place to announce soldiers' skill. Acknowledge new recruits who are doing well -- they'll take notice and find ways to work toward being better service members.
Stewart Signs has proudly supported our military, churches, and businesses for over fifty years. We come with an eye for design and a heart that's set on making sure you get exactly what you want. Learn more about the military signs Stewart Signs offers, and reach out when you're ready for a consultation!