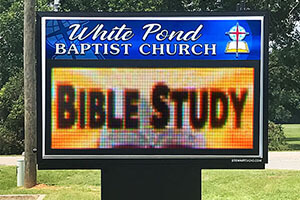 As more and more church doors begin to reopen every day, church staff may be wondering the best way to spread the news. Advertising in local print ads can be costly and designs will need to change with each individual announcement. But what if we told you there is a more effective way to spend your outreach ministry budget? LED signs are the perfect outreach tool for your church. They are cost-effective and can easily be updated by church staff to attract new members and engage current members 24/7. Here are some additional ways an outdoor LED church sign can benefit your church and its reopening.
Officially Announce Your Reopening
Spread the good news that you are now open for in-person services! Use your outdoor church sign to let passersby know when your services will begin and what expect. Put up eye-catching graphics and animations using your SignCommand library to draw in both new and current members.
Provide Important Safety Information
Share important safety precautions still in place at your church to help members feel comfortable with in-person services. Display graphics on your LED sign showing important health updates such as social distancing rules, mask requirements, sanitizing stations, etc. The more information you provide, the more comfortable your congregation will feel returning to your church.
Continue Virtual Church Options
Help those who still cannot attend in-person services feel included by continuing to offer online services. Giving members the opportunity to resume virtual church, will help your congregation with continued growth. Whether members cannot make it due to ailments or simply because they are out of town, online services will allow them the opportunity to still attend. Use your outdoor LED church sign to promote the continuation of virtual church services. Not sure what to display on your LED sign? Our SignCommand graphics library has an eye-catching virtual graphic ready for you!
Advertise Upcoming Events
An LED sign is the best advertising tool for your church. Announce future in-person services and events to help members feel hopeful and optimistic for the future. Build excitement within your congregation and community for your upcoming events by advertising bible study groups, concerts, VBS events, movie nights, and more.
LED signs can help your church have a successful reopening in so many ways. The important messages and events you can promote on your LED sign are limitless. With Stewart Signs, you are not only purchasing a quality sign but an outreach tool that your church will use for years to come. Contact us today to learn more about the benefits of LED church signs.