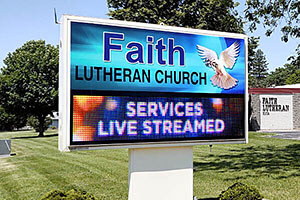 Many churches are experiencing the same strains when it comes to keeping their congregation feeling connected during the pandemic. With CDC guidelines for social distancing, capacity limits, and the fear of exposure, many members may prefer to remain attending virtual events and services. Keep them feeling connected to your church through messaging on your LED sign. Here are a few ideas on ways to help keep them feeling connected.
Safety First
According to a survey done by IPSOS, 55% of Americans say returning to their pre-COVID life is a moderate or large risk to their health right now. Help members feel more comfortable attending your church by announcing the safety measures you have in place. Is it preferred that members wear masks inside your church? Does your church undergo a deep clean or sanitation process post service? Maybe you have sanitizing stations at the entrance? These are all important messages that you can announce on your church sign.
Live Streamed Services
Most churches now have the availability to stream their live services. If you are one of them, you can advertise your live streams on your
outdoor LED church
sign. Promote your service times, links to your services, invite new members to join you online, sneak peeks into upcoming sermons, future digital events and so much more.
Virtual Group Meetings
Help members who are still uncomfortable with in-person meetings feel connected virtually. Does your church have a Women's Ministry? If so, have them host a virtual Ladies Night where those who opt-in can enjoy an hour of teachings and fun activities. What about a Youth Group? Keep them engaged with fun and exciting lesson plans and games. You can host a virtual game night with Pictionary, bingo, or even scavenger hunts. The options are limitless! Announce your meeting information on your outdoor
church sign
, social media pages, and website to help boost attendance.
Other Virtual Activities
Virtual activities can be more than just church worship services. They can be live streaming open group conversations, choir practices, daily devotionals, and more. How you choose to gather small groups at your church or larger groups virtually is solely based on your church's needs and what your members are most interested in. Let passersby know which events are upcoming or happening now by broadcasting them on your outdoor LED sign.
Finding a way to keep your church feeling connected does not need to be a tedious task. With the right amount of planning and advertising, your church membership will grow. An outdoor LED sign is a powerful outreach ministry tool and is one of the most effective ways to deliver your messages. If you are not already an existing LED sign customer, contact us today to learn more about the benefits of upgrading to an LED sign. With Stewart Signs, you receive free expert advice, pricing, and an artist rendering of a sign designed for your needs. Don't forget to ask us about our payment plans.