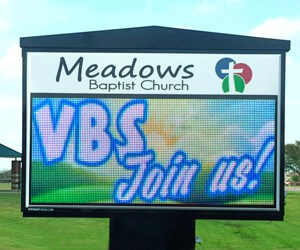 During these trying times, we cannot afford to sit back and wait for things to return to normal. We must try to accept change and actively seek new ways to reach our community and keep them engaged. With VBS right around the corner, now is the perfect time to get your community excited for upcoming events. We know VBS is one of the largest outreach programs of the year for churches and we would love to help you keep it that way. Here are some ways LED signs can help your church and VBS programs grow.
LED Signs are the Most Effective Form of Advertising
LED signs are the perfect outreach tool for your church to achieve maximum exposure. Compared to other marketing mediums, however, LED signs has a significantly lower cost-per-thousand impressions (CPM). With the decline of consumer exposure to advertisements on traditional mediums like television and newspaper, LED signage is the most effective way to spend your Outreach Ministry Budget.
Stand Out with Eye-Catching Graphics and Animations
Make your church stand out to neighbors with fun, eye-catching messages. All Stewart LED signs come with access to our very own cloud-based sign software - for free. This browser-based application, SignCommand, grants you access to our media library which contains over 1,000 preloaded graphics, or you can use our Animations Templates to bring your text to life with colors and movement. Make your VBS schedule and events be the talk of the town!
Control and Monitor Your Sign from Anywhere
With SignCommand, you control and monitor your sign from any internet connected device, regardless of where you are in the world. This technology will help church leaders deliver their messages regardless of the time or place. Communicate changes to your VBS programs, events, and even emergency situations such as Amber or Silver Alerts, all in real time.
Increase Attendance by Inviting New Guests
Use your LED sign to invite new guests to visit your church. According to Lifeway Research, about half of the kids attending a VBS program are not from that church! Almost 30 percent attend another church, while 22 percent do not attend church at all. Studies show that 69 percent of parents would encourage their child(ren) to take part in a VBS program when invited by a friend, even if it is at a church they do not attend. Announce your open VBS invitation, encourage members to invite their neighbors, and your attendance numbers will soar.
Source: www.lifewayresearch.com
Are you ready to take your advertising to the next level? Since 1968, Stewart Signs has provided quality signage to churches across the country and around the world. Boost your overall attendance, improve communication with your community, and more with a Stewart church sign. Contact us today to learn more about the benefits of a new church sign.