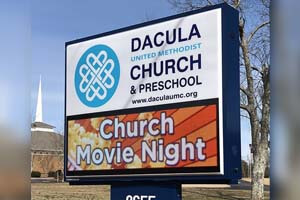 Have you purchased or are considering purchasing an outdoor sign for your church, but unsure what messages you would display? Though church customers typically use their sign to announce service times and share bible quotes, there are many other messages that can be promoted on your sign. Here are some other message ideas:
Upcoming Events
Many churches see a higher volume of visitors during their public events. To guarantee your event will be a success, start announcing event information about 30 days in advance. Customers with LED signs can utilize their SignCommand software and create eye-catching graphics for upcoming events.
Special Announcements
Keep your neighbors informed on what's happening inside your church and community through special announcements. These announcements can be anything from volunteer requests to hall rental availability, or even community news and important weather alerts. Let your community know what is going on inside your church and ways they can be involved.
Messages of Encouragement
Sharing messages of encouragement and positivity is a great way to grab the attention of passersby. We have learned that many communities love reading funny church sign messages. These messages not only make people laugh and smile, but also leave a lasting first impression.
Fundraisers
Fundraisers are an important part of any organization. To guarantee the success of yours, promote all fundraising information on your outdoor church sign. Be sure to include online links for donations, sponsorships, special orders, event dates, etc.
When it comes to which messages you should share on your church sign, the possibilities are endless. Each church has the ability to share as much or as little information as they choose. Just keep in mind that displaying a variety of messages on your sign can help attract an audience of all demographics!
Additional Resources: