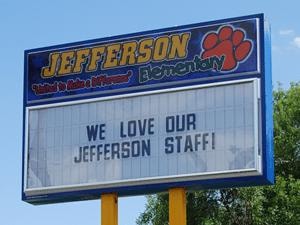 Many schools have changeable letter signs; after all, they offer a great way to advertise events and messages to the community at a fairly low cost. Because the design and setup costs are typically affordable - and the final product is visually appealing - school leaders often opt for this form of signage.
Unfortunately, vandals see this form of signage as an open invitation to do unsavory things. People who are looking to make trouble can easily change the letters to reveal unwanted messages, break the glass that protects the lettering, paint the protective layer, or inflict any number of damaging acts upon unprotected changeable letter signs. Here's how you can help protect your changeable letter signs from vandalism.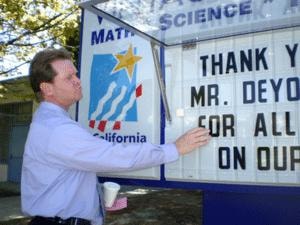 1. Employ an Awesome Locking System
Easy-to-enter signs are breeding grounds for unscrupulous behavior. If your school has a changeable letter sign, you don't want just anyone to be able to access it, so you need to lock it down. Of course, cheap locks can easily be broken (or broken into), so you want something that will withstand the clever minds of people who intend to do harm to your organization.
Stewart Signs' Glide & Lock support system enables your team to easily open the TUFFAK® SL polycarbonate and change the message by way of a hands-free design. Thanks to our locking vandal cover, your administrators can easily put the locking device into place when they're finished updating the sign. The locking device is key. With it, vandals aren't able to gain access to your signage alphabet, which means your message remains intact without anyone being able to switch or steal letters.
2. Keep Your Sign Well-Lit
Another great way to prevent vandalism is to show your sign in the best lighting possible, meaning you can often prevent problems before they happen if you place your sign in direct-light. If you're in the city, consider placing your sign directly beneath a street light so people will be illuminated if they try to vandalize your sign. If you're in a rural area, or a place that doesn't have street lights, consider installing motion-detection sensors so lights turn on if someone is within so many feet of your sign.
In many cases, the simple act of a light turning on can be enough to turn someone away from doing something they shouldn't be doing. Even better, an internally-illuminated sign can offer that spotlight while bringing attention to your message.  For the best energy efficiency, consider LED illumination.
3. Incorporate a Surveillance System
Cameras can do amazing things when it comes to providing safety and security to your school community. As far as your signage goes, this can be one of the most vulnerable pieces of equipment you have on your property. To protect it, consider installing security equipment that keeps an eye on your signage.
There are a multitude of options on the market, meaning your organization may opt for a low-cost system that does just-in-case surveillance, or you may choose a costlier route that allows you to record activity on an ongoing basis. In any event, surveillance systems can do great things for your school if you're concerned about vandalism.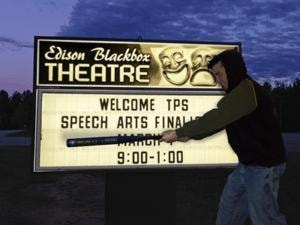 4. Purchase a Sign That's Meant to Withstand Vandalism
In the end, the best way to make sure your sign is as vandalism-proof as possible is to keep this element in mind during the purchasing process. Stewart Signs utilizes TUFFAK SL® polycarbonate, which is an incredibly strong compound that's "hundreds of times stronger than plate glass and many times stronger than acrylic. This tough, long-lasting material offers attractive protection in areas subject to high traffic, vandalism, or burglary." In other words, our signs are built to withstand the tests of time, weather, and bad choices made by individuals who intend to harm your organization.
Stewart Signs puts our clients' safety and security above anything else. Thanks to our Glide & Lock support system, you can rest assured that anyone with permission can easily update your sign, slide the cover back into place, and prevent vandals from changing your wording. Our locking vandal cover ensures no one is able to get under the polycarbonate cover unless you say it's okay, so your message will stay intact, despite anyone's plans to change your letters without your permission. Are you ready to learn more? Contact our team for your personalized Quick Quote today!