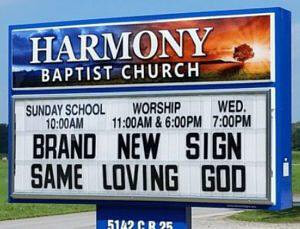 When it comes to getting God's Word out to the community, there's a great debate in terms of church signage: to backlight or not to backlight? The thing is, there are probably dozens - if not hundreds or thousands - of churches in your area. As a leader in your church, you want to attract passersby, so worshipers feel welcome and invited to participate in the services your congregation offers. Backlit church signs offer a great way to get noticed, attracting the eyes of people driving by - day or night.
Of course, backlit church signs come with an increase in cost. So, what should your church do if you're in the market for a new sign? With these thoughts in mind, our team has compiled some of the pros and cons of backlighting your church sign. Ultimately, it's a great investment that will yield more engagement from current and future members of your congregation.
Pros of Backlit Church Signs
There's a reason you see backlit church signs everywhere you go; they're beneficial to the congregations they represent, as well as the communities who get to observe them. Backlit church signs offer:
Greater Visibility in Rural Areas
Many churches are located off the beaten path, so to speak. Quaint church buildings may not stand out to passersby, but brilliantly lit church signs will. Even the most rural of roads can benefit from backlit church signs, as they illuminate the area around them with a warm glow that speaks to the presence of God.
A More Modern Look
As the Millennial generation comes into its own, many churches are looking for ways to  reach out to this technology-savvy set of congregants. Traditional church signs certainly have their place in the world, but if your congregation is going for a more modern feel, you'll find it with backlit signs. Today, people respond to messages that speak directly to them. They want attractive elements that draw their eyes toward the things an establishment wants them to see. Backlit church signs are an excellent example of the way the Good Book can find its way into modern times. Through the use of thoughtful words and custom-designed artwork, you can easily revamp your church's style to a more modern look.
Cons of Backlit Church Signs
For most small to medium-sized churches, the main drawback to backlit signs is the cost associated with running electric to the area where the sign will be located. This can be a major dilemma because leaders often struggle to determine if a lighted sign can justify the additional costs. The end results of backlit church signs will enable you to reap your return on investment by:
Attracting new congregants into your pews
Touting news, information, and events that will draw attention (and funds) to your House of Worship
Spreading God's Word long after your services are finished
Backlit church signs work for God 24 hours a day. This means people will see your messages when it's overcast, after the sun sets, and during normal service hours. What you want to do is get the Word out. Well-lit church signs will help you spread your message.
Types of Lighted Church Signs
Backlit church signs are no longer the wave of the future; they're here today. If you want to truly engage your community with eye-attracting designs that grow your congregation and let people know you welcome them into your place of worship, an LED sign is the way to go.
Need help figuring out which configuration will work best for your congregation? Our team is here to help! With over fifty years' experience in the church sign industry, you can trust that your house of worship is in the hands of professionals when you work with our sign experts.  Learn more about our church signs today!