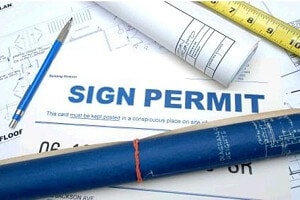 We are aware that the permitting process for sign installation can be intimidating and time consuming. While there is not much we can do to eliminate this hassle, we can provide some education on the process and let you know what to expect.
In general, the permitting process for all construction projects is all about public safety.  It is in all of our best interests that our local governments ensure that quality contractors will be doing the work. The purpose of a sign permit is (1) to make sure a licensed contractor is performing the work and (2) that the contractor installs the sign in compliance with zoning, building and electrical codes. Although the elements included in the sign permitting process vary from city to city or state to state, the following paperwork is what you can expect to encounter:
Permit Application: Including the contractor, engineer and owner's names and addresses, type of sign, zoning designation, real estate number, etc. with notarized signatures
Land Survey / Site Plan: Displaying the legal description, property lines, easements, the building outline, streets bordering the property, proposed site of the sign, etc.  Some permitting departments require a copy of the recorded Property Deed which proved who owns the property and under what legal name.
Structural Drawings: Designed and sealed by a state licensed engineer displaying sign dimensions and how the sign and sign foundation are constructed along with the wind load calculations.
Notice of Commencement: Describing the legal description, address and owner and contractor's names.
Agency Letter: Although optional, the Agency Letter (similar to a single purpose Power of Attorney) allows the contractor to sign various permit documents for the owner.
Sign Bond: Typically renewable yearly, the sign bond is an insurance policy of sorts that allows the city to access funds to maintain the sign if the property owner does not do so.
Electrical Permit: associated with and attached to the sign permit.