Over the past 45 years, our signs have seen it all. From hurricanes, tornadoes and other natural disasters to less natural events such as plane crashes, our signs have survived even the most extraordinary situations.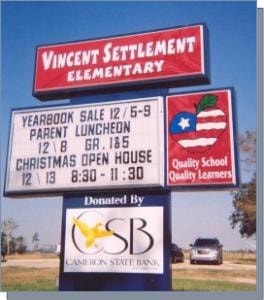 In 2005, Vincent Settlement Elementary School installed a Herald Series sign.  "The school took a direct hit from Hurricane Rita exactly one week to the day after we installed the sign," said teacher-sponsor Tony McCardle. "I'll never forget getting the call that we had a lot of exposed sky in most of the classrooms." Although the school buildings were severely damaged, their newly installed sign survived the hurricane without so much as a letter moving out of place in the message center.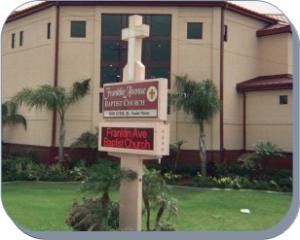 Hurricane Katrina also made its mark on Louisiana in 2005, but not on the DayStar LED sign that stands in front of Franklin Avenue Baptist Church. The category 4 storm took 1,900 lives and destroyed countless homes and businesses. The Eighth Ward was left flooded for three weeks to a depth of nine feet. Pastor Luder, preacher at Franklin Avenue Baptist since 1986, was determined to rebuild despite the two years it took to restore electrical service to the church and surrounding area. "I thought the sign was a goner. That's why I will never forget the call telling me that the sign came right up! Pre-Katrina service times displayed across the LED as if the tragedy hadn't even happened. That sign survived 125-mph winds and spent 3 weeks underwater!" recalls Pastor Luder with a boyish chuckle.  "We should have had you build our levees, then our levees might not have burst."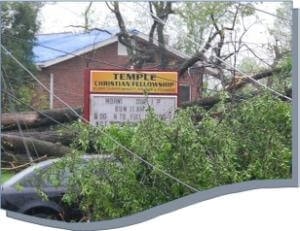 In April 2011, an EF4 tornado struck Bridgeton, Missouri and its path devastated over 750 homes and businesses. Temple Christian Fellowship Church's Announcer Series sign survived the 166-200 mph winds, shining as a beacon of hope for members of the community. "Practically everything was blown away but the sign was still standing tall after the tornado! We might not have recognized our building had it not been for the sign!" says Jeanette McNutt, the Pastor's wife.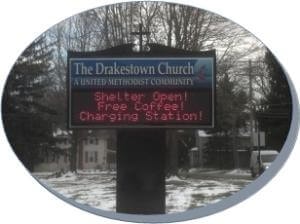 In more recent years, our signs have withstood the strong winds and floods of Hurricane Sandy.  A TekStar LED sign at Drakestown United Methodist Church survived the storm and provided the community with information about recovery efforts and available shelters. Pastor Bob Mayer said enthusiastically "If any other church came to us, I would tell them EMPHATICALLY you need to get this sign!"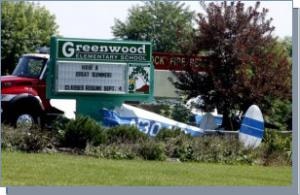 The most unbelievable survival story of all comes from a less natural event, however, a plane crash. In 2007, the Announcer Series sign in front of Greenwood Elementary School withstood a direct hit from a single-engine plane that began experiencing mechanical trouble soon after takeoff. Witnesses reported seeing the plane flying extremely low and coming in between a power line and a barbed wire fence, grazing both.  Although the pilot was attempting to land safely at the airport, just a half-mile north of the school, the plane's mechanical failure caused it to crash into the school's sign. Thankfully, all parties involved were unharmed. The pilot and passenger walked away and Greenwood's school sign stands undamaged to this day – a testament to the quality and durability of our signs.