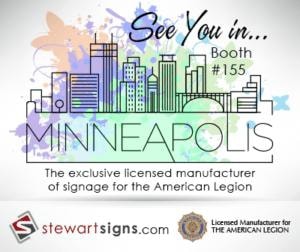 100 years is a very special anniversary, and Stewart Signs is proud to announce we'll be at the centennial celebration of this year's National American Legion Convention.
Stewart Signs' signage pros will be available for questions and demos at the Minneapolis Convention Center in downtown Minneapolis, Minnesota from August 24-30. Join us for this commemorative occasion, as some of the most experienced experts in the signage industry show you how your organization can enhance its outreach to veterans, volunteers, and the greater community.
Stop by booth #155 so you can see what a TekStar display looks like in real life. This is the perfect opportunity for you to see how your organization can increase communication. Take advantage of our exclusive American Legion show special and receive a free YETI cooler with every LED sign order placed at the show. Ask the booth attendant for more details on how to get your free YETI Tundra 65 or 75.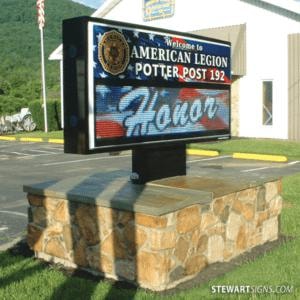 The American Legion is the largest veterans' service organization in the United States, working to ensure the time-honored values of the military continue, uniting members through community-minded service endeavors. As a leading provider of military signage, Stewart Signs is thrilled to be part of such an event, and it's our goal to help service members and civilians alike reap the benefits of today's communications technologies.
Stewart Signs is honored to have recently been chosen as the exclusive licensed manufacturer of outdoor signage for the Veterans of Foreign Wars (VFW). We invite you to learn how we support our troops—active, inactive, and retired—by way of beautiful, vibrant signs that get people's attention.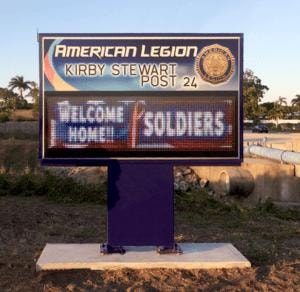 We look forward to seeing you! If you won't be attending this year's American Legion Convention, you can learn more about Stewart Signs' easy-to-use, high-quality signs online. Feel free to reach out to our experienced sales consultants by phone or online.