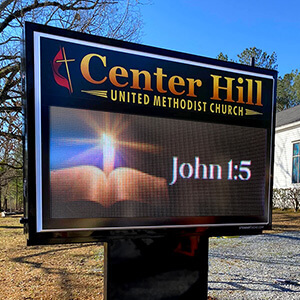 Taking on the responsibility of a sign project can be a daunting task. There are many factors that come into play when deciding on the right type of sign for your organization. What are your local zoning regulations? Where should the sign be installed? What style and size should the sign be? For a successful sign project, here are a few things that we suggest you keep in mind.
Zoning
Your local zoning authority regulates the type of signage that is allowed at your location. These regulations include the type of sign, location, size, appearance, and more. Finding out which rules are in place first will ensure your project operates smoothly. For example, most historic districts do not allow LED signs. If an organization within those rules purchased an LED sign, the sign owner can possibly receive a violation and have to update their sign to match current regulations.
Sign Location
When it comes to determining your new outdoor sign location, you will want to consider an area with clear visibility to oncoming traffic. In some instances, you may find it best to install the sign at perpendicular angle, allowing the sign to be seen from the roadway. If you are unsure of the best location for your sign to be installed, a sign specialist will be able to provide you with advice.
Sign Design
When designing your sign, think about the goals you want to accomplish. Discuss those goals with your sign consultant to design not only a beautiful sign, but also a functional sign. Be sure to include important information such as sign type (LED, Changeable Letter, Light Box, Monument), size, and any branding information such as colors, mascots, logos, etc. Since your sign design may be determined based on local zoning regulations and location, it is best to complete those steps prior to designing your new sign.
Contact us to receive your copy of our helpful Sign Project Planner, a step-by-step guide to selecting and installing a new sign for your church. Contains a dozen pages of useful project resources and checklists.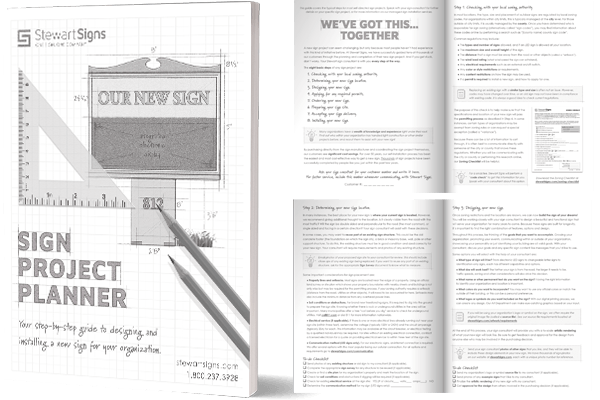 Additional Resources: