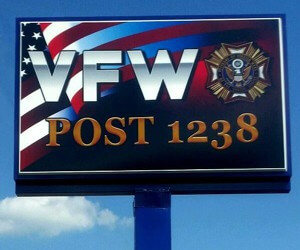 Civic organizations need community members to help them accomplish their goals and to boost engagement, they need to get their messages into the community in interesting and effective ways. LED civic signs help these organizations reach out to people in meaningful ways. If you are looking for ways to improve your organization, you should explore some of the following ideas. Here's a look at the top 10 trends in civic signage.
1. Community Awareness
Signs can help build awareness of what is happening with civic organizations in the community. Civic organizations use their signs to let people know about upcoming events or to inform the community about what the organization is working on. Often, community members want to support local civic groups, charities, or initiatives, but they simply don't know where to get started. To point them in the right direction, signs can be a powerful tool.
2. Cloud-Based Signage
In the past, most signs had to be updated manually, but new technology has allowed many civic organizations to move toward cloud-based signage. With cloud-based signs, you can update all the signs related to your organization remotely. For instance, if you have locations in several different towns, you can manage all of the signs from a central location. You can also schedule messages in advance so that they appear at different times or change throughout the day.
3. Community Involvement
If the community isn't involved, civic organizations can't accomplish their missions. However, people often don't know how to get involved. To invite their participation, many civic organizations post information about upcoming events or share details about how community members can support the organization.
4. Safety Messages
Generally, civic organizations are devoted to social welfare, and their missions tend to include charitable, educational, and recreational aspects. Because they are devoted to the community, these organizations often use their signs to post safety messages that reflect the unique nature of their organization. For instance, scouting organizations or local trails groups share tips on how to hike safely and what supplies to bring with you when you head out into the wilderness. Local forestry groups use signs to alert the public about fire risks. Health-focused organizations may share tips or reminders related to cancer screenings or about the importance of diet, exercise, and hydration.
5. Education
Sometimes these organizations take their educational message beyond safety concerns, and they educate the public about other important information. For instance, they may share stats related to the importance of early childhood education, and they may let their community members know about educational events or free preschools for children. Regardless of the messages these groups decide to share, they help their communities learn more about the democratic process, and they try to create an engaged citizenry that understands how the community works and which organizations are instrumental in that process.
6. Sponsorships
Donations can be essential for civic organizations to operate and free marketing can be an effective way to convince businesses in the community to donate to the civic organizations. To thank these companies for their pledges, many civic organizations give their sponsors exposure on their signs. They may share the company's name and logo or even post a short ad about the company's products or services.
7. Revenue Generator
In addition to gathering revenue from sponsors, some civic organizations use their signs to advertise events that are specifically designed to generate revenue for their group. If they are holding a charity poker night, a silent auction, or any other type of fundraisers, signs ensure that anyone passing by the organization's brick-and-mortar location hears about the event. Similarly, groups can also direct potential donors to their website where they can make donations or sign up for monthly sponsorship plans.
8. Membership Information
In other cases, civic organizations use signs to encourage new people to join their organizations. They may start by inviting community members to a special event. They may post their website or social media page so that people who are curious about the organization can learn where to find more information. Or, they may just post a short message urging people to call or stop by and join the organization.
9. Social Media
Effective marketing requires integration across multiple channels. To get their message out and to improve their branding efforts, civic organizations need to develop messaging that resonates across their print and digital marketing platforms. To enhance those efforts, they use their signage to promote their social media accounts. Then, people who are interested in the organization can follow the organization's page and get timely information about upcoming events and fundraisers.
10. Smart Signs
Civic organizations use smart signage both inside and outside their buildings to get their messages out. For instance, if they are hosting a booth at a local event, they may use a smart sign that alternates between a variety of different messages. They may use push notifications or geofencing technology to spread the messages from their signs to the people who are passing by with smartphones.
Your organization deserves to enjoy the benefits of civic signage. To start the conversation about which type of sign is right for your needs, contact us today. At Stewart Signs, we are the nation's leader in civic, municipal, school, and business signs. We look forward to helping you get your message into the community.