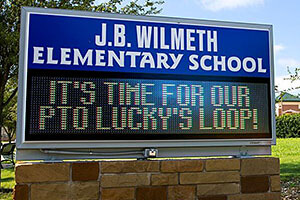 Looking for some new ways to engage students, parents, and staff with your outdoor sign? Well, look no further. At Stewart Signs, we understand the importance of boosting community engagement at your school. With over 50 years of experience, we have some great ideas that are guaranteed to help with your success. Here are our top 5 ways you can increase engagement at your school.
Events
Use your outdoor school sign to get students, parents, and staff excited about upcoming events at your school. Some of our local school favorites are School Pride Day, 100th Day of School, Pi-day, Mix Match Day, and Wacky Hair Day. A great way to get parents involved in the excitement is to host a Career Day at your school. Instead of asking local business partners to come out to your school, ask parents to come out and educate students on the skills that are required for success in their careers.
Extracurricular Activities
Access to teams and clubs provides all students an opportunity to participate in activities of their choosing. Students can work directly with teachers on the formation of new clubs at your school. These groups can be anything from debate teams to chess clubs. Once your teams and clubs are formed, use your school sign to start promoting your club, how to sign up, and meeting information. If you are an existing Stewart LED sign customer, check out our large variety of built-in graphics in your SignCommand software. With SignCommand, you can also create custom eye-catching designs that will grab the attention of passersby.
Programs
Does your school offer programs that supports students and parents? After-school care programs, free lunches for students, and PTAs are just a few examples of the programs your school might offer. Advertise these programs using your outdoor sign. With your marquee at the front of your school, your messages will be seen 24/7 by everyone who drives by.
Incentives
Getting students motivated to learn can be difficult. With a decline in attention spans, we need to find new ways to not only get students excited about learning but to keep them motivated. One of the tricks that many teachers find useful, are rewards. These rewards can be anything from a special treat to an afternoon movie. Teachers can ask students to be on their best behavior, have perfect attendance, or even participate in group projects for rewards. Promote your reward system and incentives on your school marquee to remind students what is needed from them each day.
Community Involvement
Community involvement is one of the best ways to bring everyone together. Get your entire school staff, student body, and parents involved with community service. Build community partnerships by seeking volunteers for city clean-up days, dog walking, tree planting, fostering a shelter animal, lawn care services, and more. Promote these community events and seek volunteers by advertising on your outdoor school sign. With changeable letter signs having limited space for messages, create a Facebook event for your followers to share. This will give your school event added exposure for more parents to sign-up.
Stewart school signs provide the essential means of communication between schools, students, parents, and teachers. We offer expert advice, free quotes, artist renderings, and payment plans. Contact us today to get started on your next school sign project.