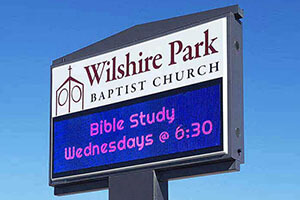 When used correctly, church marquees can be the perfect communication tool to help your church attract more members. A study by the National Evangelistic Association found that "10% of the adults who join American congregations each year decide to visit for the first time after seeing the church sign..." Are you ready to explore some ideas on how your outdoor sign can positively impact your church's growth? Here is a look at our top 5 ways to grow your church with your outdoor sign.
Open Invitation
Use your outdoor sign to invite your neighbors and all who pass by to your services. Whether you have an LED sign or changeable letter sign, how you deliver your message is very important. Our LED sign customers will have access to a library of animations and graphics that can be used to create eye-catching designs. Customers who have changeable letter signs will need to be a little cleverer. A current trend is to use funny church sign messages to grab the attention of passersby. Our current favorite funny church sign message is, "What's missing from chch? UR!".
Announce Services Provided
Many people do not recognize that a church is more than just a religious space. Churches offer services that the entire community can enjoy and benefit from. Does your church offer day care services, hall rentals, provide shelter, have a food bank, host AA meetings, provide free meals to the homeless, or even operate a thrift store? Promote all the services your church provides on your outdoor church sign. As more people learn just how important your facility is to the entire community, the more likely they will want to join.
Highlight Upcoming Events
Draw in potential new member by getting your community excited about upcoming events at your church. This is the perfect time of year to start announcing your Fall Festival dates, Angel Tree sign-up information, and even Christmas services. Don't forget to include your weekly Sunday school, bible groups, and worship services. If you have a Stewart LED sign, be sure to check out our SignCommand graphics library. With over 1,000 built-in graphics, you will always have something unique to share.
Promote Social Media Accounts
Your social media accounts can be used to promote everything from in-person services, events, online services, fundraisers, and more. You can use your outdoor LED sign to ask members to follow your church on Facebook, Twitter, Instagram, Pinterest, etc. Allowing followers a glimpse inside your church before attending an in-person event or service can motivate them to share and invite friends to join them.
Continue Offering Livestream Services
At the beginning of the COVID-19 pandemic, many churches started offering live stream services. These services were a great way to keep your congregation thriving during trying times. With new variants of the COVID-19 virus making rounds, you may want to consider continuing to provide online services. These services are a great alternative for those who are unable to attend in-person and help further your reach into your community. With services being streamed online, your members can easily share the link with their friends, resulting in new memberships. You can also use your outdoor sign to promote the link to your live stream services for maximum attendance.
For free expert advice on your next sign project, an artist rendering, and pricing information, contact us today. Don't forget to ask about our payment plans.