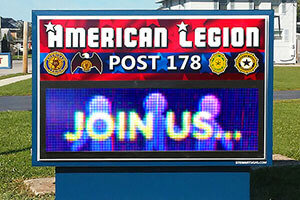 Civic organizations are community-based companies that rely on their members to help improve their neighborhoods and boost community engagement. Since these organizations are completely reliant on volunteers, it is important that they are always looking for new ways to recruit members. Traditional methods of handing out flyers, mailing letters, and wearing pins doesn't have a far enough reach into the community to keep those memberships growing. If you are looking for ways to increase recruitment numbers, we have a list of ideas for you to explore. Here's a look at the top 5 ways to recruit members with your outdoor civic sign.
Create Eye-Catching Messages
Grab the attention of all who pass by with creative messaging on your outdoor sign. Target specific audiences or invite the entire community to become members. Let your community know that new members and volunteers are what keep your organization thriving. Since outdoor signs allow you to advertise 24/7, your organization will not only reach those who live in your area but all who drive by.
Host Events
Hosting events is a great way to get your name out to the community. The more your community sees your name, the more brand awareness is built, and the more they will have interest in what you're doing. These hosted events can be craft fairs, markets, member appreciation day, bring a friend day, weekly dinners, etc. Once you have the dates locked in, start planning your sign messages to spread the word.
An expert tip for our LED sign customers, is to start promoting your events on your sign about 90 days before the event starts. Since our SignCommand software allows you schedule down-to-the-minute and even years in advance, you will never mis-schedule your content.
Ask for Followers on Social Media
Promote your social media accounts on your outdoor sign. Allowing people to have a glimpse in to your organizations beliefs and community efforts can intrigue people. Once they see all the good your organization does for the community, they will be excited to join in on the greater good. Ask members to share any events that you're hosting to draw some extra attention to your page.
Hall Rentals
Hall rentals are a great way to show off your facility to new people and even other civic organizations. Allowing these other civic organizations to rent your hall can increase the chances of them joining yours. Many people who are already involved in one community group, are more likely join another one. Announce your hall rental packages and pricing with advertising on your outdoor sign. If you have an LED sign, check out our premade hall rental graphics or create your own eye-catching messages using our animations templates feature in SignCommand.
Promote Membership Benefits
Use your outdoor signage to educate people on the benefits of joining your organization. Many people are not aware of the life-changing benefits such as self-improvement, sense of togetherness, money saving opportunities, financial services, retail discounts, and so much more. You can even include any qualifications that volunteers must meet to become members. Use these benefits and qualifications to create targeted messages on your sign and watch your memberships grow.
Stewart Signs believes that every organization deserves to enjoy the benefits of outdoor signage. Let us help your organization thrive through effective communication. Contact us today to get started on your next sign project.