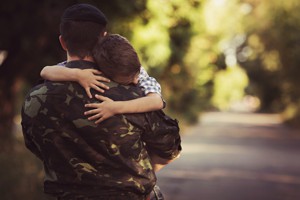 Our military men and women are the heart of this country. They take on enormous tasks and undergo unimaginable circumstances - all in the name of keeping American citizens safe. When they're away, letters, cards, and gift packages mean a lot. When they come home, however, even smaller elements can make the gigantic impacts.
The simplest signage can mean major things in terms of morale. Our service members need to know they're appreciated and that the public at large appreciates what they're doing. Whether you're in charge of welcoming Naval sailors into port, or you're tasked with making sure an infantry of soldiers gets to their home base safely, you might be surprised at the impact a single sign can have on the spirits of the men and women arriving home from deployment. It doesn't matter if your military members are coming by land, sea, or air, your signage can have a major statement on the way your people feel when they come back home.
Statements that Make an Impact
When you're thinking about sayings to put on your military sign, think about the service members who will be viewing it when they arrive back home. A single phrase can be worth a fortune in the hearts and minds of the people who serve our country. Here are a few ideas:
"Mission Complete"
It's a simple statement, but it wasn't a simple mission. The people who arrive to these words will appreciate the value of this two-word phrase.
Your Branch's Core Values
Every branch has a set of core values, by which its service members abide. Your people are proud to serve on the foundations set forth by their branches. When they come home from deployment, seeing the core values by which they live—on signage—can really mean a lot.
"You Did It!"
Everybody had their own mission, but in the end, the goal was to come home. They did it, and now they're ready for a warm bed, a hug from their loved ones, and a little relaxation. Remind them that they did what they set out to do, and they'll appreciate the excitement upon their return home.
How LED Digital Signs Enhance the Coming-Home Experience
When service members are away, their loved ones stay back home, taking care of kids, homes, and financial situations. Once they know their service member is coming home, they want to broadcast their love—big and proud.
If you're looking for a way for spouses and loved ones to offer specific messages to their incoming service members, LED signs are the way to go. With digital LED signage, your service members can be welcomed home with messages specifically tailored to individual people. Thanks to flexible software such as SignCommand that is capable of quick and easy messaging updates on LED displays, your incoming service members can see their own life on the big screen. Friends and family members often post:
Inside jokes
Baby announcements
Personalized "welcome home" messages
Heart-felt love notes
If you truly want to make your signage authentic when your service members come back home, enable friends and family members to create signage content. People can come up with pretty incredible messages if you give them the power. You can trust that anyone on the ship or plane will appreciate personal messages when they approach the base.
Stewart Signs proudly serves our military customers, bringing beautiful signage to any base across the country. We work with every branch in the U.S. military, helping our customers find ways to boost military morale with a few simple words. If you're searching for military signage, you've come to the right place. We invite you to browse Stewart Signs' military sign work, and if you're ready to learn more, reach out to us for your free Quick Quote.