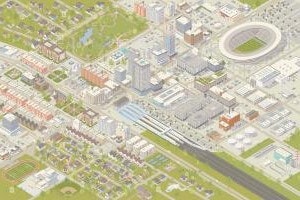 Ah, the Zoning Board - they keep our cities and neighborhoods organized and regulated, and we need them. But it can be tricky to navigate all the different requirements and laws within each municipality. Our signs can be programmed in many different ways to add benefit to a community as well as blend in with the surrounding environment, so everybody is happy. Here are a few tips to help convince even the most conservative zoning board that:
An LED sign is a beneficial addition to your organization.
Our LED signs are programmable to turn off in the evening. - If the zoning board is worried about light pollution, here's your solution. If you don't need the sign sending your message all night, just program it to turn off in the evening and then back on in the morning.
Our LED signs dim automatically relative to the brightness of the day or night. - Is the zoning board concerned about lighting up the night sky or daylight visibility difficulties? Our LED signs take those concerns off the table. They get brighter during the day to compete with the sun and dim at night – automatically, so there is no oversight required to make sure your LED sign isn't changing the skyline optics of your city or town.
Our software will work with your zoning regulations! - Some zoning boards have restrictions on how often an LED sign can change messages. Our software will do whatever you tell it to when it comes to how often you want your LED sign's message to change – as often or as seldom as you need. And it's all cloud-based, so the ease of use is there.
An LED sign is a beneficial addition to your community.
Our LED signs can be programmed with community-specific information in case of a flood, storm, or other impactful community events.
If there is a major event happening in your community, so our LED signs can help spread information.
Is your church or school used as a voting location? Then let the public know with your LED sign!
Is your property a storm shelter location? That information needs to get out, s0 an LED sign is an easy way to reach a large audience.
Perhaps your parking lot will be used for overflow parking for a large event? Point those people in the right direction by programming your LED sign with the info.
There are many different ways an LED sign can be of great value and service to your organization, and to your community. And last but not least: if you have specific zoning-related questions, reach out to your sign consultant. They would be happy to provide you with technical drawings or installation information and answer any questions you may have.