When Mikaela Herrick started attending Clearwater Valley High School in Kooskia, Idaho, she had no idea the impact she would have on the community. During her junior year, Mikaela chose to make her senior project one that would help the school and students alike for years to come.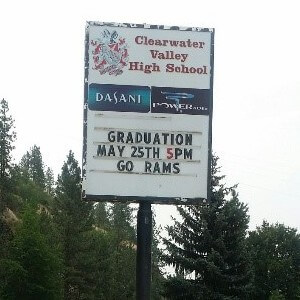 Recognizing a Need
For years, the school had been using its changeable letter sign to communicate with students and families, but Mikaela saw an opportunity for change. The changeable letter sign could be time-consuming to update, since it required school personnel to manually change the messages. It was an inconvenience for the staff, especially during the winter or on stormy days. Unlike a Stewart sign with a vandal cover, unauthorized people could easily move the letters around, which made the sign more susceptible to vandalism.
Fundraising for a New School Sign
Mikaela took it upon herself to tackle the challenge of replacing the outdated changeable letter sign with a new LED school sign. She knew the new school sign would help improve communication from the school to the community. The challenge ahead of her was that she would need to raise the funds to fully pay for the sign.
Mikaela spent her senior year raising the money through fundraising opportunities like selling her homemade cookie dough. She also organized an art class that helped to raise awareness for her project. She even earned money for the sign by using her art skills to decorate the windows of local businesses in celebration of homecoming.
She received donations from businesses to help her reach her goal. She even donated the prize money of $2,000 that she earned from Coca-Cola through an essay she wrote. The company increased its donation after learning about her cause and contributed a total of $6,000 toward the new school sign!
Hard Work Pays Off
In May 2019, Mikaela saw her hard work pay off when Stewart Signs installed the beautiful new LED sign in front of the school by Highway 13. In her efforts, she raised enough to cover the entire cost of the entrance sign. She worked with Stewart Signs to incorporate her artwork into the final design so that a little piece of her could always be found at Clearwater Valley High School.
Mikaela hopes the sign will help the school communicate with its students and families, and she's thrilled to be able to give back to her community. The Clearwater graduate wanted this sign to stand as a tribute to the power of determination. She hopes it will inspire others to know that they can do anything they set their minds to.