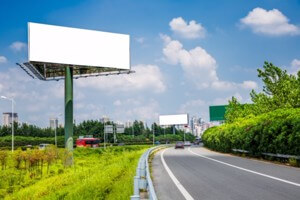 If you're trying to decide between a billboard and a video wall, you may want to spend some time thinking about the potential differences in return on investment (ROI) between these two options. The exact ROI can vary significantly depending on the situation, but to help you decide, here's a look at the elements you need to consider.
Signage Objectives
To effectively measure the ROI of a billboard or a video wall, start by thinking of the objectives you want your signage to accomplish. Do you want to drive sales of a certain item? Increase brand recognition? Boost donations for a fundraiser? Attract new members to your church? Free up employee time by using signage to direct customers? Make performances more engaging? Or something else?
Once you have narrowed in on a goal, think about how effectively a billboard or a video wall can help you accomplish those objectives. For instance, if you simply want more passersby to know about your facility, a traditional billboard, an electronic billboard, or a video wall can all work. On the other hand, if you want to share constantly changing information with customers, a static billboard doesn't work. Instead, you need a video wall or an LED billboard.
Similarly, if you're trying to increase buzz about your facility, you may need to choose a flashier option than a static billboard, which would be the largest and most visually striking electronic option. Typically, electronic billboards and LED signs have a single screen which has some size limitations — over certain sizes, these screens lose resolution and integrity.
Video walls, in contrast, have no limitations on size. They feature individual panels which can be configured in a variety of ways, and the more panels you add, the larger your display can be. As a result, over the long term, you can do a lot more with a video wall, and that may be worth the increased investment.
Measuring ROI
As a general rule of thumb, you calculate ROI by dividing profits by the cost of the investment. For instance, if you spend $20,000 on a billboard, but it increases annual profit by $30,000, your ROI is $30,000 / $20,000 or 150%. In most cases, however, the calculations are more complex. You need to take into account the value of the billboard or video wall over the course of its lifetime. Keep in mind that while some objectives are directly tied to a dollar amount, others are slightly vaguer, which also makes these calculations more complex.
In addition to thinking about the gains achieved as a result of your video wall or billboard, you also need to identify areas where you're saving money. For instance, if a video wall saves employee time, you need to include the reduced payroll costs when calculating ROI. In that same vein, if you can reduce marketing costs in other channels due to the increased foot traffic, social shares, or word-of-mouth advertising you receive from the billboard or video wall, you also need to take those figures into account.
To find out if increases in sales or foot traffic are coming from your billboard or video wall, ask your customers. When customers are in your brick-and-mortar location, you can ask them how they heard about you and track their answers on a spreadsheet. Alternatively, when people visit your website for the first time, have a quick pop-up ask them how they heard about you and present options, including billboard and video walls. There are a lot of ways to collect customer impressions, and this information can help you understand the true ROI of your marketing choices.
Long-Term Flexibility
Remember that your goals may change over the course of time; make sure you select an option with the flexibility to keep up with your objectives. If you run a boutique and you want to advertise four different seasonal sales, for example, a static billboard can probably accomplish that for you. On the other hand, if you want to display restaurant specials, announce upcoming performances at your venue, market big sales, share new product releases, or post countless other constantly changing announcements, you need an electronic billboard or a video wall.
Ultimately, you need to think about how it helps your business or your organization to change messages on your video wall or billboard on a regular basis, and you should also think of the labor hours related to changing messages. Putting up new material on a static billboard is labor-intensive, while changing the message on an electronic billboard or a video wall is virtually effortless.
If possible, you should try to translate all these elements into numbers. To get a sense of the potential ROI, you may want to look at case studies of how similar organizations have benefited from video walls or billboards.
The Cost of Billboards and Video Walls
Billboards and video walls come with a variety of different price tags. To get a sense of how much a billboard or video wall is going to cost in your situation, you should work directly with a sign consultant. They can let you know about cost based on size, tech specs, installation considerations, and more so that you can start to think more closely about potential ROI.
Ready for digital signage, video walls, or static signs to improve your organization? Then, contact us today. At Stewart Signs, we have led the signage industry for over 50 years, and we look forward to helping your organization share its message and get noticed by more people.