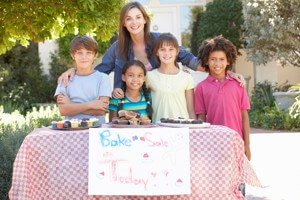 A lot of towns, cities, and even state governments are exploring the benefits of fundraising. If your tax base and other forms of revenue aren't filling your coffers, you may need to host your own fundraiser. To attract as many donations as possible, you need to make sure people know that you're fundraising, and your civic sign can play a big role in that process. Check out these ideas.
1. Direct People to Online Fundraisers
Online tools make it easy to organize fundraisers. You can have a web designer build you a fundraising site or help you add a fundraising button to your webpage. Alternatively, you can use a fundraising service such as Kickstarter or Fundly. In all cases, your civic sign can direct people to your online efforts. Consider lines such as "Help the town buy new playground equipment. Find us online at HelpforNewToys.com", or "Donate to the free lunch for local seniors fund at MyNiceTown.org".
2. Advertise Fundraising Events
Rather than encouraging people to get online, you may want to invite them to a fundraising event. The possibilities are endless; you could hold a pancake breakfast in the park, do a silent auction in the community center, have a car wash in the courthouse parking lot, and much more. Keep your sign's messages short and simple. Let people know when and where the fundraiser is, and tell them why you're raising money.
When you have an outdoor LED civic sign, you can advertise the fundraising event for the days and weeks leading up to it, and you can also use your sign to draw people into the event. As your sign is digital, you can rotate this message with the rest of your announcements.
3. Get Local Merchants Involved
Local merchants can help to improve the caliber of your events by donating their products and services. For instance, if you're having a silent auction, local merchants can donate prizes. They can hold special events where they give back a certain percentage of revenue to the community, or they can act as sponsors and donate cash to the event.
Regardless of how local merchants get involved, use your civic sign to thank them and give them extra exposure. For instance, you can announce that Sam's Shoe Store is the sponsor of your local fair, you can plug Betty's Burgers' Tuesday night burger sale and community fundraiser, you can lend free advertising space to Winston's Welding Shop in exchange for a civic donation, or you can get local merchants involved in other ways. When you can earn money through a fundraiser and support local commerce at the same time, everyone wins.
4. Invite People to a Game
Fundraising doesn't have to be stuffy or boring. On the contrary, it should be fun. Plan a civic fundraiser based around a game and use your sign to invite people to sign up and come to the event. You may want to do a poker tournament, a Vegas-style casino night, a golf tournament, or a family-friendly carnival.
If you have an LED sign that can display videos, you can play short clips of people playing games at previous year's fundraisers. During the event, you can even take short videos and upload the clips to your sign to entice people to join in the fun.
5. Share the Number for a Texting Campaign
You can also use your civic sign to promote a text-in fundraiser. You don't want to encourage people to text and drive, so keep the instructions very short and simple so that they can be easily memorized when someone is driving by. Then, they can send the text when they reach a safe parking spot. For example, your message can be something along the lines of "Text HELP to 1234 to donate to the city pool fund", or "Text DONATE to 32003 to give money to the town's community center fund".
6. Display Scavenger Hunt Clues
A scavenger hunt can be an exciting fundraising campaign. One option is to have participants pay an entry fee. Then, the winner gets a prize, and the remaining funds go to your town. During the hunt, you can drop hints in the local newspaper or on the radio, but your sign is probably the cheapest, most visible, and easiest place to display your clues. Of course, after the event, you can also use the sign to congratulate the winners.
7. Be Specific
Whether you are holding a walkathon, a dance marathon, a silent auction, an online fundraiser, or any other type of event, be specific about what you're doing. Some people will certainly make donations to a general civic fund, but in most cases, people get more excited about fundraisers when they know exactly where the money is going. Use your civic sign to tell people more about why you need the funds and how they are going to improve your community.
If you're doing a fundraiser for a downtown beautification project, use your sign to show photos of your current downtown and then share shots of what you want it to look like. Similarly, if you're trying to buy new playground equipment, add a new skateboard park, rebuild the community center, or gather funds for another building project, put plans and photos on your sign. When trying to collect money for initiatives that help people in the community, share their stories, broadcast their social media posts, or put up video clips of people being helped.
Your community isn't necessarily all reading the paper or listening to the local radio station, but they are likely to be walking or driving past your civic sign. Let your sign enhance your fundraising efforts using the tips above. In the market for a new civic sign? Then, contact us today. At Stewart Signs, we provide signs for schools, cities, churches, and more.