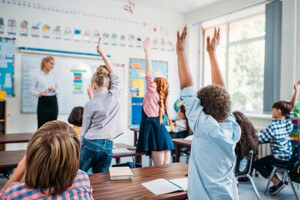 Stewart Signs will be hosting a booth at the TASA/TASB Convention in Austin on September 28–30, 2018 at the Austin Convention Center. Hosted by the Texas Association of School Administrators (TASA) and the Texas Association of School Boards (TASB), the event is designed to produce a transformative experience for school board members, administrators, and other school leaders in a way that ultimately improves education and leadership at Texas public schools.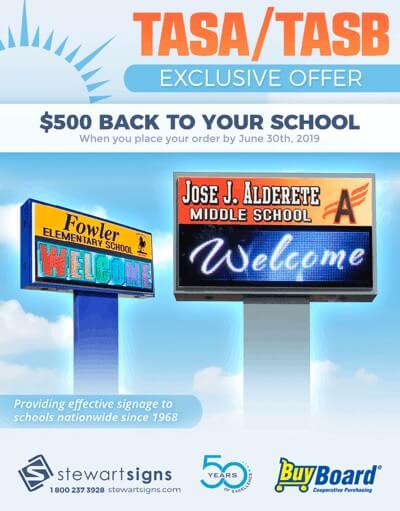 Annually, the event draws in 1,000 administrators and over 5,000 school board members and guests, and as an exhibitor, our goal is to help school leaders learn how to make the most of their school signs. Our experienced signage professionals look forward to getting to meet school leaders face to face. We are happy to answer your questions about sign technology, choosing the best sign for your school, and enhancing your community's communication systems through signage.
At this two-day event, we're joining a variety of vendors including architects, curriculum writers, classroom technology specialists, security companies, and many others. The event also has a range of seminars and activities including panel discussions, interactive hands-on learning experiences, workshops, and more so attendees can learn and discuss everything from accountability, to student safety, to work life balance, to district culture, and everything in between.
Come see us at booth #303. We will have a TekStar sign on display, and you should see it in action. Check out our signs and get a feel for how a new sign will impact your school!
For over 50 years, Stewart Signs has been leading the signage industry. We provide signs to schools, churches, municipalities, businesses, and civic and military organizations. Through the years, our signs have always kept pace with technology, offering our clients new possibilities all the time. Whether our clients choose simple message signs or high-tech LED signs, we help them get their message out their front doors and into the community.
If you're a school administrator or school board member, plan to attend the TASA/TASB Convention in Austin and stop by and see us. We'd love to show you our award-winning signs and talk about your needs. As an exclusive show special, we will be giving $500 back to your school with every LED sign ordered.
Not planning on attending this event? Then, check out our easy-to-use, high quality school signs now! Let our signs help your school shine. Check out these posts:
A Super Salute to School Pride
Communication and Community Outreach for Schools
Digital Signs for Schools: A New Trend