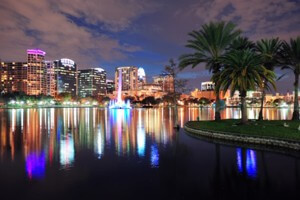 Stewart Signs is pleased to announce that we will be attending the Assemblies of God Influence Conference on July 31 and August 1, 2019 at the Orange County Convention Center in Orlando, Florida.
This annual event is part of the 58th Assemblies of God General Council meeting, running from July 29 to August 4, 2019, which brings together people from the over 13,000 Assembly of God churches throughout the country — as well as exhibitors, speakers, and more. The National Youth Convention and Fine Arts Festival also takes place during this time, giving the youth from these churches the opportunity to also learn and grow in their faith.
During the week-long council meeting, attendees can enjoy prayer experiences, coaching forums, and exciting presentations on topics such as "How Should the Local Church Engage with Global Missions?", "Preaching the House Down", "Multicultural Children's Ministry Dynamics", "Side by Side: Ministering as a Husband and Wife Team", "Culture, Change, and Biblical Literacy", "How to Build a Leadership Pipeline" and other topics relevant to contemporary ministries.
There are also special engagement banquets, receptions, and even late-night parties available for separate fees, in addition to alumni gatherings for graduates of Southwestern AG University, Trinity Bible College, and the University of Valley Forge. Our team from Stewart Signs will be located at booth #943. We will be on hand to talk with attendees about how a dynamic sign can help you spread the word about your ministry while also drawing new families into your church. We can also show you how some of our best-selling signs work and answer your questions to help you find the perfect sign for your church.
As a special offer for show attendees, we are offering a special deal for attendees that purchase a 24-high TekStar capable of displaying 3 lines of 5.5" text – get upgraded to a 32-high sign capable of displaying 4 lines of 5.5" text at no cost.
For over 50 years, Stewart Signs has been a leader in the church sign industry, and we also provide digital, lightbox, and changeable letter signs to schools, nonprofit organizations, civic groups, municipalities, and more. We pride ourselves on keeping up with the latest technological advances in the world of signs while also working closely with our clients to ensure they get the perfect sign for their needs, whether that's a high-tech or a traditional sign.
If you're not able to attend this upcoming event, you can learn more about our church signs by checking out the following posts and resources:
Stewart Signs Success Stories
Why Invest in a Sign
Church Signs: Interview With Senior Sign Consultant Greg Winch