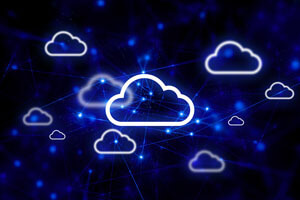 When you purchase an LED sign from Stewart Signs, you receive our exclusive cloud-based digital signage content management system, SignCommand.com. It's the easiest digital signage software you will ever use! To get a sense of the main features, check out the overview below.
What Is a Digital Signage Content Management System (CMS)?
A digital signage content management system is a computer application that allows for the customization, scheduling, monitoring, and deployment of content across a network of digital displays. It makes updating the messaging and media on your sign easier than ever before.
Set Up
SignCommand offers an easy set up. You need an always-on internet connection with your sign, which you can accomplish with a wired or wireless connection. Once your sign is turned on, it should automatically connect to your internet network or to your wireless service provider, depending on how you set up the sign. For instance, with Stewart Signs, you can buy a lifetime connection to the Verizon network for your sign if you want a wireless connection.
Then, you can sign into the SignCommand portal through a browser on any device; it does not need to be connected to the same network as the sign. You don't even need to be in the same location!
Playlists
A playlist is a list of all messages, images, and video clips to be shown on your sign. Making a playlist is one of the first things most people do with their new sign software. The interface is very intuitive, and the process is not intimidating at all. You simply select make a new playlist, name the playlist, choose the sign you want to use from the drop-down menu (if you only have one sign, you don't have to worry about this step), and create some slides — since SignCommand.com is a cloud-based digital signage CMS, it saves the content automatically. You can also share and edit playlists easily once they have been created. Using the scheduling available for each slide, a single playlist is capable of containing an entire years' worth of slides.
Slides
A slide can include text, graphics, and other media. To create a slide, you open a playlist and select new slide. Then, you can choose from "text & media," "date & time," and "temperature." Once you make your selection, you add the media or text you want on your slide using the editor functions.
You can rearrange slides by dragging and dropping, but to add slides, you repeat the "to create a slide" steps. Don't see a save button? That's because SignCommand saves everything automatically so you don't have to worry about losing anything or manually hitting save. If you want to delete a sign or even an entire playlist, you must scroll over the slide or playlist to see the trash can.
Editor
The editor function allows you to add details to your sign. You can put in background colors, borders, text, and other visual elements. The editor's functions are very similar to using a program like Microsoft Paint. You can control your sign and make scheduling or playlist changes on a phone or tablet. However, to get the most out of the editor, you should use it on a computer.
When adding text, you can choose between regular text and pixel text. Pixel text allows you to add pixels based on the size of your sign, which is a feature that is helpful for smaller signs. Consider experimenting with both regular and pixel text to see which looks better on your sign — ultimately, you may end up using both options depending on the messages you are posting. You can choose different colors, use a variety of fonts, resize text by selecting and moving the corner of the box around the text, and drag and drop text to different areas of the sign.
If you need to put a long message on a small sign, you can set up the message so that it scrolls. Alternatively, with larger signs, you can put in several lines of text. Or, in both cases, you can spread your message out through multiple slides.
Media & Library
You can also add media to your sign quickly and easily to increase user engagement. For your convenience, there is a library of premade media available to most sign owners. After deciding what to display, drag and drop the media to the part of the sign where you want it to appear and resize as desired.
Scheduling
After creating the slide, you flip it over by clicking on it, and then, you can choose how long you want the slide to appear on the sign. You can also specify if you only want the slide to appear at certain times of the day or night, and you can set up a transition to appear between that slide and other slides.
When you hit the "edit schedule" button, the two main options are continuous and scheduled. If you select continuous, the slide continuously rotates with other slides in the playlist. With scheduled, you can choose daily, weekly, monthly, yearly, or by date. You can also direct the sign software to show the slide between certain times of the day or on certain dates.
At least one slide in every playlist needs to be marked as continuous. Otherwise, you risk your sign being blank. The scheduling feature also lets you give certain slides priority. Then, these slides appear more frequently than other less important slides in the playlist.
Preview and Sending
After you finish creating a playlist, hit preview to see how it looks. The SignCommand content management system will play the entire playlist including slides that are only scheduled to appear at certain times. If you like the final effect, you just hit send to sign, and then, the magic happens. Your sign goes live with your playlist.
Wait a minute or two for the playlist to appear on the sign. If you want to edit the playlist or add new slides, you can easily do so by repeating the steps explained above.
Ready to Make Your Sign Easier Than Ever to Use?
The learning curve on the SignCommand.com content management system is minimal, and most users are able to jump in quickly after buying their signs. As you get more familiar with the sign software, you can start to play with other features such as animation templates, changing the brightness levels, downloading content through a USB drive when your sign is offline, and more.
When you invest in a sign from Stewart Signs, we include SignCommand.com for free with your purchase. That allows you to easily communicate your messages to your customers, your organization members, and anyone else who sees your signs. To learn more about quality signage and easy to use sign software, contact us today.