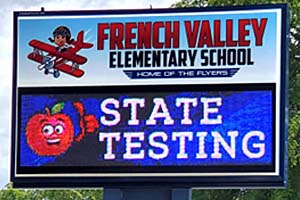 Outdoor school signs are an essential tool for any educational facility. They serve to inform students, parents, and the community about school-related events, programs, and announcements. In addition, they help to create a welcoming atmosphere and a sense of school spirit. Let's discuss some of the the different types of outdoor school signs that are commonly used by schools.
Monument Signs
Monument signs are a great way to showcase your school's logo and name. Our product is constructed from a solid EPS core and hard-coated with thick polyurethane for strength. Containing a 100% acrylic textured finish which resists fading, impact, and harsh weather, these signs are built to last. Each sign can also be customized to fit the school's design, logo, and colors, and can be illuminated for maximum visibility at night.
Lightbox Signs
Lightbox signs are illuminated displays that use backlighting to make messages stand out. They consist of a frame or cabinet with a translucent front panel that houses the signage. Lightbox signs can be customized to showcase the school's name, logos, or other graphical elements. They are commonly used for school to tastefully identify their organization.
Changeable Letter Signs
Changeable letter signs, also known as marquee signs, offer schools the flexibility to update messages using interchangeable letters or characters. These signs consist of a sturdy frame or cabinet with a display area that accommodates individual letters. School staff can easily rearrange or replace the letters to deliver different messages. Each Stewart changeable letter sign comes standard with a locking vandal cover made of the same graffiti and UV resistant TUFFAK® SL found in our sign faces. These vandal covers prevent the theft of letters or inappropriate messages being displayed, all while protecting your sign from the elements.
LED Signs
LED signs are an excellent way to display important school messages in real-time. They can be used to communicate daily announcements, events, and updates to parents, students, and staff. Outdoor LED signs are highly visible, and their vibrant colors and motion graphics can capture the attention of passersby. They are often used to display upcoming events, special announcements, boost fundraising activities, and increase school pride.
Outdoor school signs are essential for any educational facility. They serve as a communication tool and create a welcoming atmosphere. With the right signage, your school can create a welcoming and informative environment for staff, students, parents, and the community.
Additional Resources: