Quick Message is a SignCommand.com feature that allows you to dispatch a message to your sign quickly without any formatting or special steps. While best for use during emergencies, this part of your LED sign software is also convenient at any time. To give you a sense of the possibilities, here's a look at how Quick Message works.
Instructions for Quick Message
Open SignCommand in a web browser on a computer, tablet or phone. Select Quick Message, type in your message on the "message text" line and hit send. That's it! You may also copy and paste text from any source. You don't have to worry about formatting the message to fit your display; the software takes care of that for you.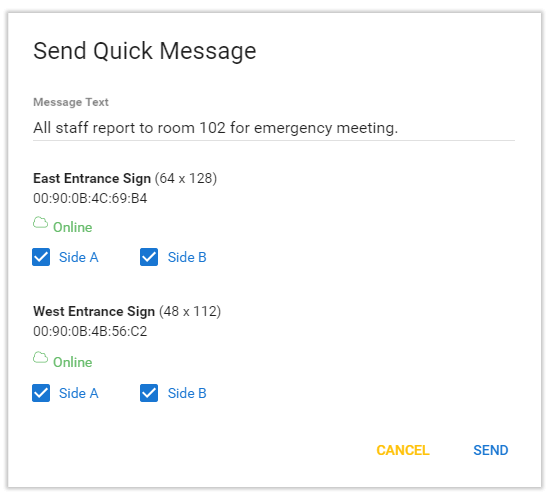 How Quick Message Works
Normally when you want to put a message up on your LED sign, you make a slide and add it to a playlist. As desired, you can customize your font, choose the size of your text, set up special scheduling, and select other features. With Quick Message, you don't bother with any of those details.
Once you add the text and hit send, the software instantly dispatches the message to all of your signs, or you can choose to send the quick message to a single sign or side. The text is automatically sized to fit your sign, and if you have multiple signs in different sizes, the text is sized to work with each one independently. Additionally, the software also spreads the message across two or more slides, if needed, to ensure proper display based on the length of your message.
Emergency Options for Quick Message
During emergencies, LED signs can play an important role in keeping the community updated with critical alerts, information and instructions. Quick Message is ideal for use in emergencies such as:
Amber Alerts for missing children
Silver Alerts for missing seniors or other vulnerable adults
Emergency weather alerts, including flash flood warnings and tornado watches
Evacuation instructions and routes for when the community needs to leave due to forest fires or flooding threats
Declarations related to public health threats such as community health threats related to infectious disease outbreaks or bioterrorism
Emergencies related to your business or organization
Other Ways to Use Quick Message
Emergencies are not the only time you can benefit from Quick Message. Anytime you need to make an important announcement quickly, Quick Message gives you that capability. The possibilities are endless; here are some examples of the feature's potential:
Making last-minute announcements about events
Posting event cancellations
Giving instructions about an ongoing event to reduce confusion, address new concerns, and keep the event running smoothly
Sharing last-minute updates
Promoting a special sale
Updating the community
Enticed by the features offered by Quick Message? Want the ability to add new messages to your sign quickly and easily? When you buy an LED sign from Stewart Signs, you receive SignCommand software for free as well as all the great features offered in this software, including Quick Message. Contact us today to find out more.