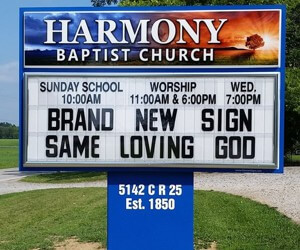 Your church sign is a blank canvas, and you can pick nearly any message to put on it. Whether you want to be serious, funny, or somewhere in between, there are countless options. But with so many sayings to choose from, you need a bit of inspiration. To help you decide on the best messages for your sign, here's a look at some intriguing church sign sayings and a few tips on the best ways to create your own church sign sayings.
Bible Verses
When looking for inspiration for your church sign sayings, you may just want to open the Good Book. You can play a little "Bible Roulette" where you just let the book fall open, you select the first verse that hits your eyes, and you pop that on your sign. A lot of people like to just let the Holy Spirit choose their messaging.
Alternatively, you can carefully choose some of your favorite verses, or you may want to put up some of the verses that you are covering in your Bible Study or Sunday school classes. To help you get started, here are some short Bible verses that can work beautifully on your church sign.
"Taste and see that the Lord is good, Blessed is the one who takes refuge in him" - Psalm 34:8
"The Lord makes firm the steps of the one who delights in him. Though he may stumble, he will not fall, for the Lord upholds him with his hand." - Psalm 37:23-34
This is the day the LORD has made; let us rejoice and be glad in it. - Psalms 118:24
"To answer before listening -- that is folly and shame" - Proverbs 18:13
"For I know the plans I have for you, plans to prosper you and not to harm you, plans to give you hope and a future." - Jeremiah 29:11
"But seek first his kingdom and his righteousness, and all these things will be given to you as well." - Matthew 6:33
"I press on toward the goal to win the prize for which God has called me heavenward in Christ Jesus." - Philippians 3:14
"I can do all things through Christ who strengthens me." - Philippians 4:13
"Fight the good fight of the faith. Take hold of the eternal life to which you were called when you made your good confession in the presence of many witnesses." - 1 Timothy 6:12
If you're not sure where to get started, the book of Psalms and Proverbs contain a lot of wisdom in relatively short verses that can easily fit on a sign. Or, head to the Sermon on the Mount in the book of Matthew. That contains all kinds of short kernels of wisdom and kindness that can be great to display on a sign.
Wit and Whimsy
Church sign sayings don't need to be serious, and in fact, funny church sign sayings often get a lot of recognition within the congregation but also in the community in general. Some lucky churches have even had their humorous signs go viral - which just means that a lot of people online share a picture of the sign on their social media account pages or blog sites.
To inject a bit of wit and whimsy into your church signs, consider the following statements:
Now Is the Time to Invest in Eternity
Give God What's Right, Not What's Left
Prayer - No Roaming Charges, No Lost Calls, Unlimited Minutes
The Best Vitamin for a Christian? Just B1
I Wish Noah Had Swatted Those Two Mosquitoes
Hipster Jesus Loved You Before You Were Cool
God Expects Spiritual Fruit, Not Religious Nuts
Walmart Isn't the Only Saving Place. Come in for Some Saving Grace
What Happens in Vegas Is Forgiven Here
Humor is fairly individual. If you're not sure whether or not a certain message is going to resonate with your community, consider test driving it with your church board or a few members before posting the sign. For instance, if you're trying to increase the appeal of your church to youth in the community, you may want to ask a few of the students or young adults in your youth group whether they think certain messages are funny or not.
To get more ideas for your church sign, put out an idea box. Place a small notepad near the box and encourage people to jot down jokes and put them in the box. The anonymity of this set up may convince people who wouldn't normally share ideas to put their hat into the ring. You don't have to use all the ideas at once. Put the ideas you like in a notebook or a binder. Then, when inspiration runs dry, you can just flip through your idea book.
Get Them Thinking
A pithy message can spread a bit of cheer into the world, while also getting people to look at faith and spirituality in a new light. The following messages emphasize the importance of faith and how it helps people to transcend their personal limitations and get beyond their pain. Consider putting church sign sayings like this on your LED or changeable letter sign:
The Key to Heaven Was Hung on a Nail
When Life Isn't a Bed of Roses, Remember Who Wore the Crown of Thorns
God's Grace Meets Us Where We Are, But Doesn't Leave Us Where It Found Us
No Bungee Cords -- Just Take a Leap of Faith
It's Hard to Get in Shape Spiritually If You Only Workout on Sunday
Experts Made the Titanic. Amateurs Made the Ark.
Compared to Satan, Voldemort Is a Kitten
God Help Me to Be the Person My Dog Thinks I Am
Write Your Plans in Pencil and Then Give God the Eraser
With messages like the above, you really give passersby something to chew on. If you need additional inspiration, check out sites such as Pinterest, spend some time searching online for ideas, or solicit ideas from your parishioners.
To encourage your congregation to come up with ideas, consider holding a contest. You can narrow down the entries to the top 10 or 20, and then, have the congregation vote on the top message. To inject a bit of excitement into the contest, consider offering a prize or potentially making a donation to the winner's favorite charity. Remember that even if you only have one official winner, you can still put the second, third, fourth, and so on place winner's messages on the sign as well.
Important Announcements
Jokes and Bible verses are just the beginning. You can also use your church sign as a functional message board to share critical information with the community. Some of the events and information you may want to post on your sign include the following:
Times of Church Services
Special Times for Holiday Services
Bible Study Times and Assignments
Selections for Your Church Book Club
Sunday School or Catechisms Announcements
Calls for Volunteers
Solicitations for Donations to Food Drives or Other Charitable Events
Invitations for New Members to Join Special Events
Information About Mission Trips
When you share this information on your sign, you repeat the message you have probably already shared during the service or in your church bulletin, and that additional exposure helps to increase the chance that you congregants will remember the special event. At the same time, you also broadcast the message into the community, boosting exposure and hopefully getting more people involved.
If you aren't sure which announcements should be on your sign, simply go to your congregation and ask them. You may want to email a short questionnaire to your parishioners or place paper postcard surveys in the lobby of the church. In particular, ask which events people wanted to know more about. Inquire if any parishioners missed an important event during the previous year due to the lack of advertising or no announcements.
That feedback can help you hone in on what to share on your sign. If you have an LED sign with sign management software, you can schedule your announcements in advance. That way, you don't have to worry about missing something. You can just set it up in advance.
At Stewart Signs, we know how important it is for churches to get their messages into the community. To learn about getting a sign for your church, contact us today.