"We should have had Stewart Church Signs build our levees," proclaims Pastor Luter. "Then our levees might not have burst."
Pastor Fred Luter was born and raised in the city he loves best: New Orleans, Louisiana. He began preaching at Franklin Avenue Baptist in 1986.
Franklin Avenue Baptist Church is a most remarkable house of worship. Its parishioners are the very heartbeat of this grand old American city. Away from the French Quarter lies a New Orleans tourists never see. It's the New Orleans of warm fellowship and close families coming together in His name.
The year 1997 saw a glorious 2000-seat sanctuary rise above the lower Eighth Ward. This majestic structure, constructed by the hands of the Lord, became part of the community even before it was completed.
"Several years later we built the Family Life Center next door and installed a Stewart Signs electronic message center in front of the sanctuary," recounts the proud pastor.
'Franklinites' (as they call themselves) by the tens of thousands came to this anointed place to give praise. "We were truly blessed by the Lord," affirms the humble pastor.
On August 29th, 2005, Hurricane Katrina struck Louisiana as a category 4 hurricane. Its destruction has already been well documented. This story is not about tragedies brought on by natural disasters. Any material loss pales in comparison to the nearly 1,900 lives lost because of Katrina.
Pastor Luter's flock was forced to evacuate, leaving their sanctuary behind to fend for itself.
As Pastor Luter laments, "We left it in God's hands."
Katrina came, destroyed, and departed. The Eighth Ward was left flooded for three weeks to a depth of nine feet. Aerial photos show a seemingly afloat sanctuary and Family Life Center. Pastor Luter took to the skies to view the damage himself. Reporting back to his members he had but five words: "We are going to rebuild."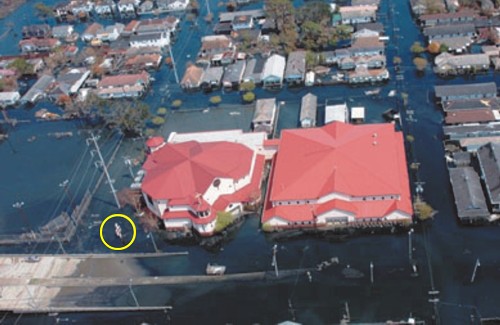 The yellow circle indicates Franklin Avenue Baptist's church sign.
Two long years passed and electrical service was finally restored.
On a November morning in 2007 church facility manager Charles Noel pondered what would happen if he tried powering up their Katrina-worn Stewart LED sign. Recalls Pastor Luter with a boyish chuckle, "I thought that sign was a goner. That's why I will never forget Deacon Charles calling my cell to tell me that the sign came right up! Pre-Katrina service times displayed across the LED as if the tragedy didn't even happen! That sign survived 125-mph winds and spent three weeks underwater!"
On April 6th, 2008, Franklin Avenue Baptist Church reopened. Displaced Franklinites from all over America - five thousand in all - returned to New Orleans to witness the rebirth of their beloved sanctuary.
Pastor Luter's sermon that joyous day was on the theme, "from disaster to dancing"; comparing the children of Judah and what they lost through their crops and cattle to what the Franklinites lost to Katrina.
"Yes, we rebuilt," Pastor Luter teaches. "We left it in God's hands."