Located in Sylacauga, Alabama, Pursell Farms communicated with a three-color LED outdoor sign for many years. While the three-color LED sign could display rudimentary information, it was outdated. Pursell Farms' owner Tim knew that an upgraded display would give visitors a great first impression.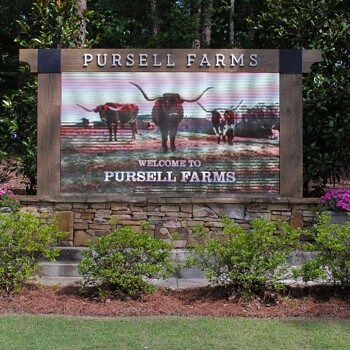 After researching available options, Tim contacted Stewart Signs and requested to see some of the available sign options in use. At the time, the single-sided full-color LED signs that Pursell Farms were interested in installing were unavailable in the Birmingham area. So Tim traveled to Clanton, Alabama where the manufacturing plant was located to take a tour with the Director of Manufacturing.
During the tour, Tim was able to see examples of the many display sizes available to install as entrance signs. These displays can be installed in many ways so that the sign can be customized to fit the aesthetics of the business. In this situation, the client was looking for an LED sign to be integrated into a custom wood surround. The experts at Stewart Signs recommended a 10mm 160x288 display that would be visible from the intersection. At approximately 5' high by 10' long, this design would allow people to easily see the farm's messaging.
After touring the plant, Tim returned to Pursell Farms and placed an order for the sign two weeks later. Since then, the new sign has been installed and is working beautifully. This digital sign can be programmed from anywhere with an internet connection using SignCommand.com, which allows authorized users to update the information without having to be onsite.
Tim, Owner
Pursell Farms
Sylacauga, AL