When Gerald Ward, the Post Quartermaster at the VFW Post 5713 in Celina Ohio, was looking for an upgrade to their worn-out changeable letter sign, he knew just who to call. With Stewart Signs being the licensed manufacturer of signage to VFW, Mr. Ward knew they would be able to meet his Post's needs.
Replacing the Changeable Letter Sign
Post 5713 had an old changeable letter sign where messages had to be updated manually, regardless of weather conditions. The Post had to make plans for staff to be on-site whenever the sign needed to have a new message. Additionally, during the bitterly cold winters someone had to trek out to the sign and switch each letter out individually.

It was time to make a change. Mr. Ward spent time researching signs from other sign companies. He obtained quotes and was impressed to see that Stewart Signs' pricing was very competitive. Ultimately, Mr. Ward knew that the VFW would want to install the sign themselves to save money. He was pleased to discover that Stewart Signs was very prompt in returning his emails and was willing to work with him on the installation process. Stewart Signs provided all the instructions needed for the installation, which helped the process go smoothly.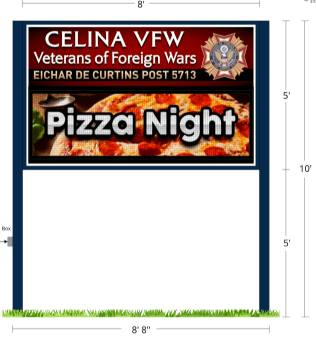 Requirements for a New LED Sign
Before the installation of the new outdoor LED sign could be installed, the Post had to apply for various permits. The team at the VFW decided that an 5' x 8' sign with an integrated digital display would work best for their needs. They also determined that 5' legs would be needed for better visibility. After the sign was designed, Mr. Ward applied for city and state variances, as well as sign permits.
One of the challenges that the VFW faced was the State Building Permit Division required an architect-approved, stamped drawing for the foundation. Stewart Signs was able to provide Mr. Ward with all the drawings, which included wind load specifications, foundation drawings, electrical requirements, and lighting specifications. In this way, Stewart Signs helped the VFW meet all the requirements for their permits on time.
Installing the Digital Sign
Despite the permits and requirements for installing the new sign, the installation process was relatively easy. The sign arrived in excellent condition on the day that had been quoted after being transported by a commercial trucking company. The sign had been carefully crated to keep it from being damaged in transit, and Stewart Signs provided Mr. Ward with several instructional videos that helped the process go smoothly.

VFW Post 5713 in Celina, Ohio now has a beautiful digital sign that can withstand the harshest weather conditions and provides an easy way to update their messaging. Using the SignCommand.com software, Mr. Ward and his fellow VFW members can update the sign remotely from any computer with internet access. This technology is a great advantage to the veterans who no longer must venture out in terrible weather conditions just to update their sign. Post Quartermaster, Gerald Ward was thrilled with the entire process. He even says, "I would highly recommend them to any Post that is thinking of installing a digital sign."
Are you tired of dealing with manually updating an outdated letter sign? If you're ready for a sign that brings light, color, and visual appeal to your organization then contact us today. Stewart Signs is the leading expert in LED and digital signage for churches, civic and non-profit organizations, schools and more.
Gerald Ward, Post Quartermaster
VFW Post 5713
Celina, OH