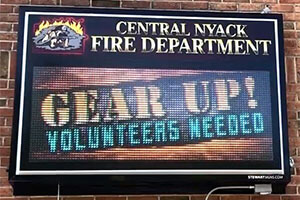 Fire departments are best known for being the first responders who arrive to extinguish fires. What many do not know, is that they also provide emergency medical services, fire investigations, hazardous material mitigation, technical rescues, and so much more. Citizens rely on fire fighters every day to help protect their communities by sharing important and lifesaving information. One of the most effective ways they can do this is through advertising on their outdoor LED sign. An outdoor LED sign guarantees your messages are seen by providing continuous advertising 24 hours a day, 7 days a week. Here are our top 5 reasons why fire departments need LED signs.
Recruitment
Encourage new members to join your department by creating compelling recruitment graphics on your outdoor LED sign. Focus on the incredible work that your department does and some of the things that make your station unique. Include a list of the skills that will be required to safely and effectively respond to emergencies, as well as available training courses. Another great approach is reminding new members about just how important their role is to the community!
Public Service Announcements
Keep the public informed on important safety updates for your area. Use your outdoor sign to raise awareness on the importance of fire safety, fire prevention, smoke warnings, and more. With COVID cases on the rise again, your LED sign can be used to deliver important community health messages. Educate your community on the importance of vaccines, masks, hygiene, and even continued social distancing. Use our SignCommand software to find the best graphics to help your messages be seen.
Emergency Alerts
Deliver critical and potentially life-saving information to your community through messaging on your LED sign. Alert neighbors of inclement weather that's on the way, active wildfires, and more. Our LED sign software, SignCommand, has a powerful built-in feature called Quick Message. This feature allows you to quickly send custom emergency communications such as Amber Alerts, Silver Alerts, Endangered Missing Persons, Active Shooters, etc. from any internet connected device.
Demonstrations
Many fire departments offer free fire safety demonstrations to the public. Advertise messages of when your next event will be and how private groups can schedule their own demonstrations. Important information such as the topics your department will be teaching, age requirements, and any possible disclaimers can be announced on your LED sign. Be sure that if you are using text in your messages, you are using clear fonts that are easy for passersby to read. You can also make your text stand out by using the Animation Templates in our SignCommand software.
Fundraisers
Local fire departments hold fundraisers throughout the entire year to help with funding for items needed for their station. With an LED sign, fire stations can maximize their departments fundraising efforts in the least time-consuming way. Using SignCommand, you can simply search the library for some fundraiser specific graphics or create your own to advertise your event. Need some fundraising ideas? Check out our fundraising strategies blog that is linked to the bottom of this page.
Stewart Signs specializes in electronic LED and changeable letter signs for fire departments and municipalities across the country. Our LED signs come with over 1,000 graphics in our cloud-based library. Let us help you promote the value of your fire department through effective advertising on your LED sign. Contact us today to get started on your LED sign project.
Helpful Links:
Crains Creek Fire Department Testimonial
Fundraising With Your Fire Department Sign
Get an early start on preparing for the 2022 SAFER Grant