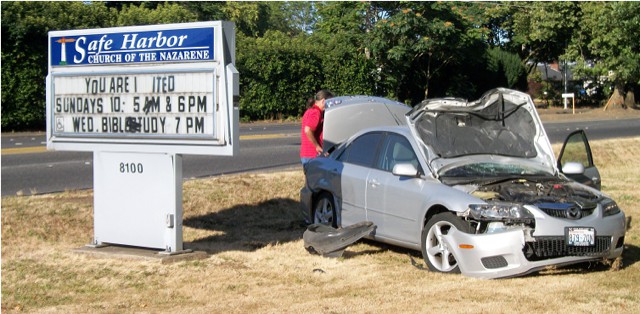 A car versus a Stewart Signs happens occasionally! Thankfully for your sign, the sign usually comes out as the "winner" - but vehicles are typically totaled as a result.
When Cars Hit Stewart Signs
In February 2006, a car crashed into a Stewart Sign. In this accident, the Mazda that collided with the sign was damaged beyond repair, but the sign suffered just a few dents. In fact, that's what usually happens when a car collides with a sign from Stewart Signs. This photo shows the aftermath of a recent accident where a Mazda crashed into a Stewart Sign at the Safe Harbor Church at the Nazarene in Vancouver Washington. As you can see, the entire front end of the car was ruined. The bumper fell off, the chassis got damaged, and the hood rolled up. The sign? Well, the sign weathered the crash perfectly. No large cracks or dings surfaced, and just a few of the changeable letters were knocked out of place.
Dealing with Damaged Signs
When you have a Stewart Sign for your church, school, civic organization, municipality, non-profit organization, or business, you receive insurance coverage for the sign. If a car hits your sign, you should begin the claims process; in many cases, the sign is entirely replaced. In these situations, you don't get a new sign because you need one. Instead, the process of replacing the small parts of the sign that got damaged is too time consuming. In other words, figuring out where to source and how to replace small damaged parts of a sign takes longer than replacing the whole sign. As a result, when sign owners make a claim for a small amount of damage, they usually end up with a whole new sign.
Stewart Signs: Strong and Durable
Stewart signs hold up when hit by cars or even high winds from hurricanes because they are made of structural steel. Many other sign companies use aluminum, which isn't as strong. Additionally, Stewart Signs are welded together. That process holds together different parts of the sign permanently and more effectively than using pins or other types of connectors.
Engineered Footings
Stewart Signs are installed with engineered footings with carbon steel supports. Footings transfer the weight of a sign or a building to the surrounding soil, but engineered footings go a step further by taking the structure, consistency, and moisture content of the soil into account, ensuring you get the most stability possible for your sign.
Built to Withstand Intense Winds
The signs are also built to withstand wind loads up to 120 miles per hour; Stewart Signs can survive hurricanes, tornadoes, and tropical storms. During these events, the rugged durability of quality signage is even more important. Often, communities use the signs that are standing to communicate during natural disasters and to help people get through the aftermath of the storm. Aside from heavy storm damage, these specs help the signs to survive other threats — like getting hit by a car.
How to Get High Quality Signage
Want a sign that can survive natural disasters, car accidents, and the inevitable wear and tear of time? Then, you need a high quality Stewart Sign. Whether you opt for a traditional lightbox sign, changeable letter sign, or a high-end LED sign, you get top notch craftsmanship with durable materials.
To get a quote or to talk about how a sign can help your organization, contact us today. At Stewart Signs, we provide signs to churches, municipalities, civic groups, schools, nonprofits, and more.