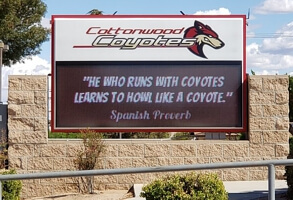 With the 2020-2021 school year quickly approaching, your school is likely deciding how to spend those last remaining budgetary dollars. The process can be tricky, and the results long lasting, serving as your foundation going into the new school year. One of the biggest mistakes made during this process, is overlooking outdoor signage. Outdoor signs are a very important communication tool for your school.
According the to the Small Business Administration (SBA), LED signs are the least expensive form of advertising. This means outdoor signage is one of the most cost-effective marketing tools out there. Your sign can be used to provide the essential means of communication between the school, faculty, parents, students, and community. Advertise all your major announcements, events, exams, meetings, fundraisers, health and safety updates, and more.
For schools requiring delivery by July 1st, 2021 for budgetary purposes, your sign must be ordered by April 30th to ensure delivery by this date! Speak with your sign consultant about special considerations on the manufacture and delivery of your sign.
Stewart Signs has been committed to your success since 1968. We offer expert advice, pricing information, and an artist rendering of a sign designed for your needs, for FREE. Make sure to ask us about our financing options. Contact us today for more information!
Additional school sign resources: