Over the weekend of September 13th, Hurricane Ike ravaged the shores of Galveston, Texas leaving the island flooded and disassembled with surges up to 30 feet. The storm was so severe that it left yachts parked on the freeway after the waters receded back into the Gulf. Homes were swept away by crashing waves and residents were issued a "certain death evacuation warning" prior to the storm's arrival; this warning had not been used since an unnamed hurricane in 1915.
In the path of this hurricane, a Category 2 with its 110 mph winds was The Barking Frog, a luxury island-home furnishing store and interior designing service, and their recently purchased LED sign.
John Averett, Financial Manager for the store, knew going in to the purchase that due a unique business situation within the company, they would not be able to insure the sign. This meant that the sign would need to be strong enough to withstand the environmental conditions that the island was prone to enduring.
As a result, they were looking for well-built, reliable signage when they found and purchased from Stewart Signs.
Averett chose Stewart Signs from the rest for a few reasons. He felt that the amount of information available through the full-featured website in addition to the selections and choices were the "most appropriate for their needs". Averett reflects on his experience with Stewart Signs: "They were easy to work with from conception to execution. They were able to get a design back quickly. I also thought their software capabilities page was helpful. Overall, I would say it was an easy purchase."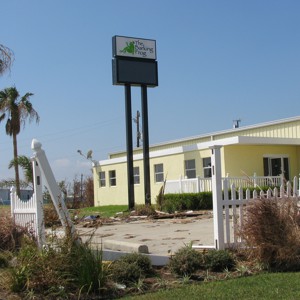 The sign stands tall among the debris left by Hurricane Ike, and turned on immediately once power was restored.
The sign was installed in late 2007 and placed at the company's Warehouse and Fulfillment Center near the causeway at the main entrance to Galveston Island. This site was chosen instead of the showroom for awareness and visibility.
After the storm, Averett suspected damage to the two facilities, but did not anticipate what happened to the sign: nothing. The 21-foot high full color LED sign survived the hurricane-force winds and driving rains of Ike.
Not only was the purchasing process a smooth experience, but after a catastrophic storm like Hurricane Ike their Stewart sign did not sustain any damage. This is in contrast to the surrounding businesses' signs which had missing pieces and broken faces. The Barking Frog sign serves not only as a model for businesses recovering after the storm, but a message that an attractive and dependable product is a worthy investment.