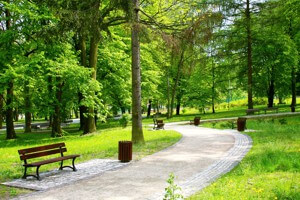 Stewart Signs will proudly be hosting at a booth at this year's National Recreation and Park Association Annual Conference. We'll join community leaders, organizers, and neighbors of more than 8,000 park and recreational organizations as we come together in Indianapolis, IN from September 25-27. Our goal is to help communities learn how to enhance their messages to the public at large.
Our experienced signage professionals are excited to meet the crowd at the Indiana Convention Center. We'll be happy to answer any questions you have and help you get on the pathway to great signage that enhances your community's communication systems.
Visit us in booth #619; we will have a TekStar sign on display. Come see it in action! Get a feel for the impact that a new sign would make at your department or facility. Stewart Signs has proudly been leading the signage industry for more than fifty years. Throughout changes in technology and turns in the economy, we're proud to say we've always been here to help our clients bolster their messages beyond the borders of their front doors.
Stop by and see us! We'd love to show you why we've received accolades and awards for our civic and municipal signage. As an exclusive NRPA show special, we will be giving away a free YETI Tundra 65 or 75 with every LED sign order placed at the show. Not going to NRPA? That's okay; you can learn more about our easy to use, high-quality signs HERE!
Take a look at a few posts that'll help you learn about the ways Stewart Signs enhances community communications:
Why Invest in a Sign
How to Protect Your Changeable Letter Signs from Vandalism
Bigger Isn't Always Better: The Case for Small LED Signs