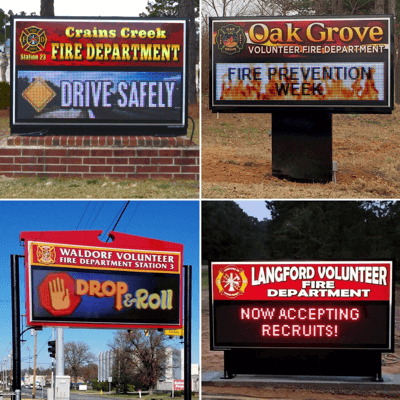 Fire Departments across the country have seen how an outdoor LED sign can improve communication and increase recruitment. More than just a way to identify the station, these technology platforms help to keep the local community informed.
Should You Get a New Fire Department LED Sign?
Citizens rely on fire fighters every day to help protect their communities by sharing important and lifesaving information. One of the most effective ways they can do this is through advertising on their outdoor LED sign. An outdoor LED sign guarantees your messages are seen by providing continuous advertising 24 hours a day, 7 days a week. From recruitment to safety announcements, an LED sign is a critical tool.
Top Ways that Fire Departments Use Their LED Signs
Many fire departments across the country use our cloud-based software to get their message out to the community. But just what is that message, and how does it help with the goals of the department? Read more about what can be accomplished with an outdoor LED sign.
How Much Does a Fire Department Sign Cost?
Outdoor LED signs come in an enormous variety of sizes, technical specifications and options. Because of this, these signs can also have a wide variety of prices. However, the price can sometimes be reduced or even eliminated through fundraising efforts and grants. Read more about how fire departments can save when purchasing an outdoor sign.
Want to learn more? Interested in getting a custom quote for your new fire department sign? Just contact us directly. At Stewart Signs, we have been making signs since 1968, and we would love to help your facility enhance its look and get its message into the community.